Best Mattresses for Migraines
A quick note: we review products independently, but we may receive affiliate commissions when purchases are made through the links on our site.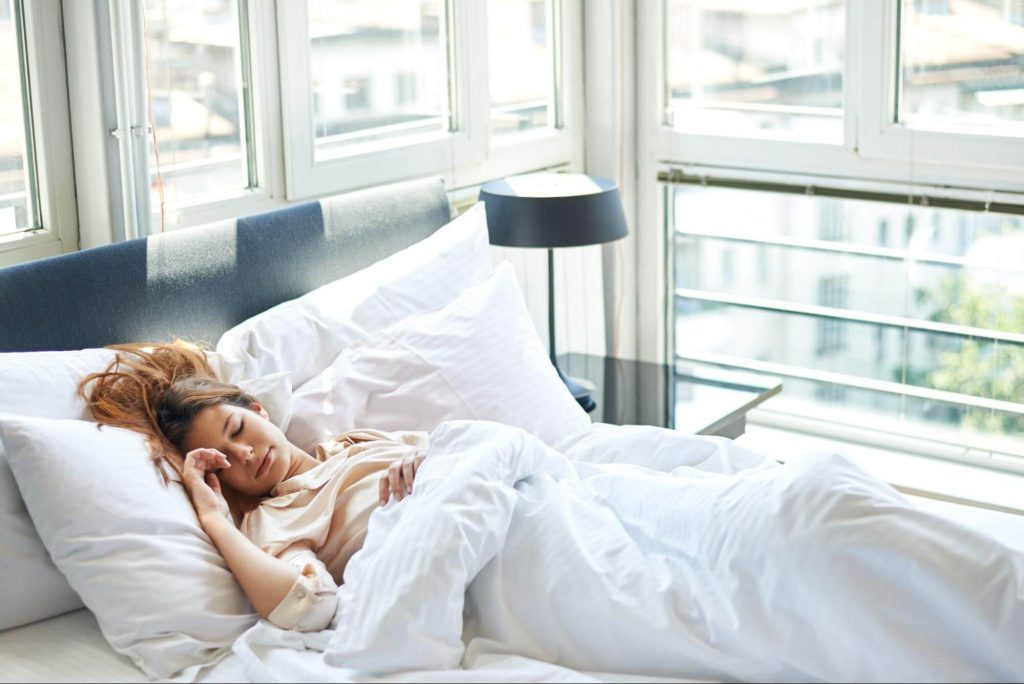 If you suffer from migraines, you know how debilitating they can be. 
You may also know that there are certain things that can trigger a migraine, such as changes in the weather, bright lights, or loud noises.
One of the most effective ways to help prevent migraines is to find the best mattress for your needs. A good night's sleep is crucial for anyone, but it's especially important for those who suffer from migraines.
Migraines are caused by a variety of factors, however, the root cause of migraines is still unknown. What is known, however, is that migraines are a neurological disorder that affects the blood vessels, chemicals, and nerve signals in the brain.
Many things can trigger migraines including bright lights, loud noises, weather, certain foods, and stress levels. Migraines can negatively impact your quality of life.
Migraines can be accompanied by several symptoms in addition to debilitating headaches.
Many people who experience migraines become extremely sensitive to light during their episodes. Trying to relax in a dark room can sometimes help alleviate the pain.
Sometimes migraines are accompanied by cluster headaches. Cluster headaches are explosive: they come on quickly and are very strong. Migraines, however, can stick around for a longer time.
Tension headaches are another type of headache that can occur, though they are normally not as severe as typical migraines.
How Do Migraines Impact Your Sleep?
Migraines can have a significant impact on sleep, both in terms of the quality and quantity of sleep you get.
They can cause people to wake up more often during the night and lead to less restful sleep overall. Interrupted sleep, as well as low quality sleep, can lead to fatigue, irritability, and problems with focus and concentration.
Migraines can really mess up your sleeping patterns, and if you don't have the right mattress, you risk doing even more damage! A good mattress can help you get more restful sleep and prevent pain by keeping your spine properly aligned and relieving pressure on any pain points.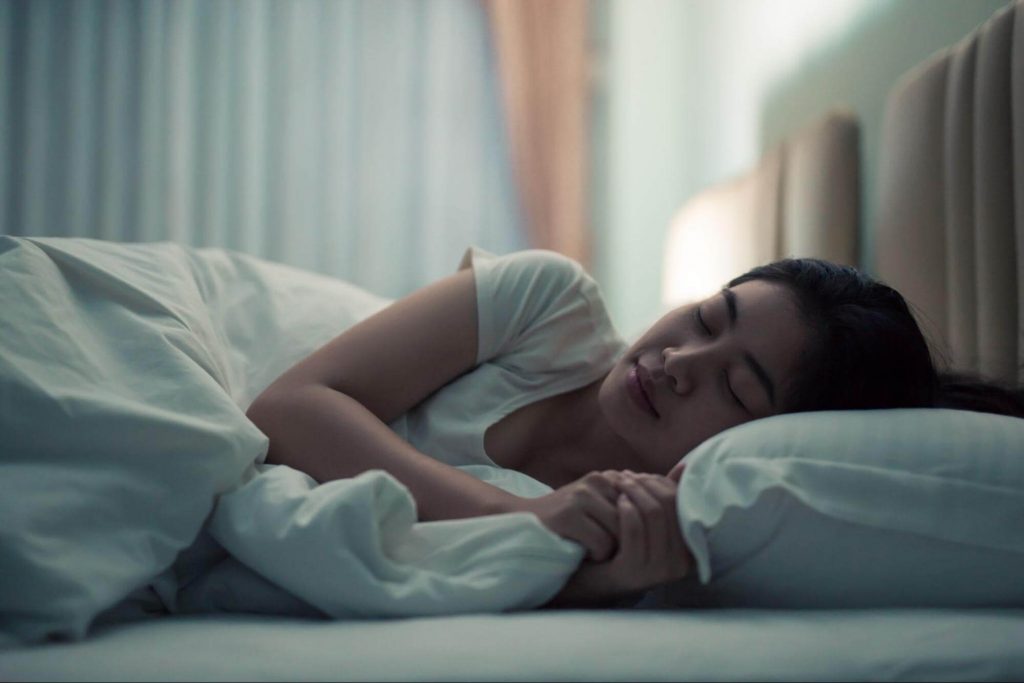 Our Recommendations: The 5 Best Mattresses for Migraines
Picking out a mattress that's good for migraines is an extremely daunting process. There are so many factors to consider, and the wrong mattress can keep you from getting the sleep you need in order to better recover from your migraines and other pain.
We're here to help make your life easier! We've compiled a list of the best mattresses for those who suffer from migraines. We've also listed the pros and cons to help you make an informed decision about which mattress is right for you.
Although Puffy may not be a household name like Purple or Casper yet, don't let its relative newness to the market fool you. This mattress is a serious contender in the industry, and one of our favorites.
Puffy was created with universal comfort in mind. And they've actually managed to turn this concept into a reality through years of research and development, testing out new foam formulas, and, of course, sleep trials.
The mattress is especially good for those with migraines because it's soft enough to cradle you but firm enough to keep your back properly aligned. This will give you the good night's sleep that you need!
The Puffy mattress is a great choice for pain relief since it's gentle on your pressure points while still firm enough to maintain good spinal alignment.
Puffy is already a great deal for the price, and it also includes a limited lifetime warranty and free shipping.
Simply put, the mattress feels amazing. People describe it as feeling like you're "sleeping on a cloud."
While the Puffy mattress has decent edge support, this is one area that could be improved. For most people, it is good enough, but if you're on the heavier side or struggle to get in and out of bed, you may need something with more support.
Puffy only comes in one firmness option, so you're somewhat limited if you prefer a very soft or very firm mattress.
Puffy isn't a great fit for those who weigh more than 230 pounds.
Casper is another good choice of mattress for those who struggle with migraines. They're usually the first brand to come to mind when you think of a mattress in a box, and there's a good reason for that! They're one of the first manufacturers to revolutionize the mattress industry, and they've worked hard to perfect their mattresses.
The Casper mattress is good for migraines since it's plush enough to be comfortable but also firm enough to give you the support you need to not feel like you're sinking into it. The layers of foam are soft and are also better at promoting air circulation than other foam mattresses on the market.
The mattress seems to have an almost cult following, so is it worth the hype? If you're a good fit for the mattress, most likely! The following are a few points to keep in mind as you decide if it's right for you.
Casper mattresses are a good fit for most types of sleepers, especially those who are of an average or light body weight.
If you like the soft feel of foam yet still want something supportive, Casper is a good choice.
Another perk of Casper mattresses: these beds are CertiPUR-US approved, so they're safe for you, your family, and the environment.
If you like a bouncy, springy mattress than Casper may not be for you since it's made of foam layers rather than innersprings.
If you are a heavier individual, the mattress may not be supportive enough for you to sleep comfortably.
Looking for a luxury mattress that's good for migraines? Saatva is a hybrid memory foam and coil mattress that offers excellent lumbar support. The mattress is 14.5 inches thick, making it the perfect choice to transform your bedroom into a luxurious retreat.
Saatva also offers a thinner mattress that you can combine with an adjustable base for a highly customizable bed, suitable for those with migraines. The mattress comes in varying levels of firmness so you have multiple options to choose from.
White glove delivery is the standard delivery option, which makes installation easy.
The Saatva mattress is the best way to experience luxury for a reasonable price: the mattresses' plush Euro top offers cushioning and comfort to help you sleep.
The mattress comes with guardin botanical antimicrobial fabric that helps prevent bacteria, which helps your mattress last longer.
If you do opt to purchase the adjustable base, it is not included in the 120 night trial like the mattress is.
The mattress comes with a $99 transportation fee, so that is something to consider when calculating the total cost.
Some people prefer mattresses that don't have coils and only utilize memory foam. If this is you and you want a soft foam bed, the Saatva mattress may not be for you.
Are you searching for an all-foam mattress that's best for migraines? The Leesa mattress is a great deal! Composed of three layers of foam, the mattress is soft yet supportive enough to be comfortable for most types of sleepers.
The 10 inch thick mattress is very popular: it's soft and gentle on pressure points, but not so soft that you sink into it and have trouble climbing out of bed. If you're not sure about whether it's right for you, rest assured: you'll have 100 days to try it out and can return it for free if you don't like how it feels.
Most foam mattresses don't have good air circulation, but the Leesa mattress sleeps cooler than similar types of mattresses.
The mattress is not only comfortable, but it offers good motion isolation. If you sleep with a partner, this can be extremely important.
For every ten mattresses that are sold, the company donates one to charity. So far, they've donated more than 36,000 mattresses.
The edge support for the Leesa mattress is nothing to write home about. If you're a senior or heavyweight sleeper, you may need something that's more reinforced at the edges.
The Leesa mattress only has one firmness option, so if you're looking for something very soft or very firm, it may not be a good fit.
If you're over 250 pounds, the mattress is likely too soft for you and you'll sink too far into it.
Are you looking for a latex mattress for migraines? Saatva's Zenhaven mattress is a great option: the organic latex is hypoallergenic, resistant to dust mites and mold, and free of chemicals.
The mattress isn't just good for migraines; the 5 layers of latex also provide top-notch back and joint relief. You can also add a foundation or metal frame. The mattress was created with the utmost care, from the natural latex support cores to the organic New Zealand wool and the quilted cotton cover.
The Zenhaven mattress is great for both you and the environment! It's created with GOLS certified organic natural latex and organic cotton.
The mattress comes with two firmness levels, one on each side. The luxury plush is softer and contours to your body while the gentle firm side offers more support.
The mattress is very allergy-friendly, and you don't have to worry about obnoxious off-gassing fumes when you open your mattress for the first time.
The mattress only comes with the two firmness options (one on each side of the mattress)
The mattress offers limiting cooling abilities. If you get hot and sweaty as you sleep, it may not be a good fit.
DreamCloud Luxury Hybrid Mattress
Those who struggle with migraines could often use a little luxury. DreamCloud's mattress fits the bill. It includes three layers, each created with luxury in mind: gel-infused memory foam, quilted memory foam, and natural latex. To top it off, the cover is a tufted cashmere blend.
The base layer is made of coils, offering you good support (not just comfort). At 15 inches, the mattress is stable yet bouncy.
The mattress comes with a lifetime warranty, as well as a full year-long sleep trial so you can make sure it's the best choice for you.
Shipping and returns are free, so if the mattress isn't the right fit for you, it's easy to return.
The luxurious mattress features eight layers of premium materials, all of which are CertiPUR-US Certified.
The DreamCloud Luxury Hybrid mattress only comes in one firmness option, so you're somewhat limited.
If you want an all-foam mattress, you may not like how this mattress feels.
The edge support isn't great right out of the box, so you'll need to wait a few days for the mattress to fully inflate.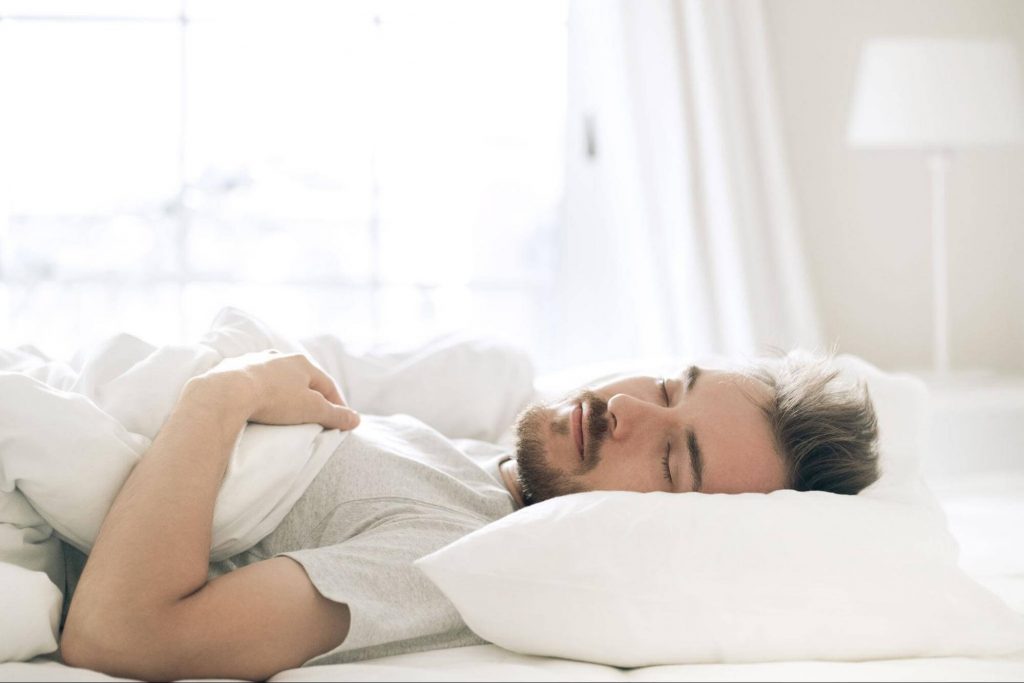 How to Choose a Mattress for Migraines
Choosing the best mattress can be hard.
One of the best ways to find one, however, is by considering your own needs and preferences.
A firm mattress is best for those who prefer a more traditional feel; it will provide back support and keep you from sinking into the bed. A softer mattress might be better for those who sleep on their side.
If you sleep with a partner, you want a mattress that has good motion isolation. This will prevent them from feeling your movements and vice versa, which can be especially important for migraine sufferers who need undisturbed rest.
A good mattress should be able to regulate temperature. This is important for those who get too hot or too cold during the night.
Edge support is also a factor when it comes to mattresses because you want the best bed for your needs.
A mattress with good edge support will keep you feeling supported as you move around, and it will also make getting in and out of bed easier.
Keeping your spine aligned properly is especially important when it comes to pain management. Look for a mattress that is soft enough to contour to your body but firm enough to keep your back aligned.
A quiet mattress is ideal for those who are light sleepers or live in close quarters with others.
You'll also need to consider any other medical conditions you have. A few common ones that impact your sleep include:
Some mattress companies offer free delivery of your mattress, which is an important cost factor to consider. Other mattress sellers even take shipping further with white glove delivery, which includes setup of your new mattress. Sometimes they will even help with the disposal of your old mattress, which is especially helpful if you're unable to move your mattress yourself.
Sleep Trial Period Length
Another factor to consider is the sleep trial period. Most mattress companies allow you to try their mattresses for a certain number of days (usually 100 or 365) and will refund your purchase if you're not satisfied.
Finally, check the warranty length. A good, long warranty is a sign that the company stands behind their product.
When it comes to migraines, one size definitely does not fit all. What works for one person may not work for another. That's why it's important to consider all of your needs and preferences when choosing a new mattress.
Best Mattresses for Migraines By Sleep Position
Of course, picking out your bed doesn't end with factors like firmness, material, and warranty. Your sleep position will also help you decide what mattress you should choose.
The best mattress for side sleepers is usually a softer one that will contour to their body. A softer mattress is gentle around the hips and shoulders. A firm mattress will push into these pressure points too much, making it uncomfortable and difficult to sleep.
Back sleepers need a mattress that is soft enough to contour to their body but also firm enough to keep their back aligned. Normally, a medium-firm mattress is the best choice.
Combination sleepers are those who switch between positions throughout the night. If this sounds like you, then you'll need a mattress that is versatile. Look for one with good motion isolation and a medium firmness.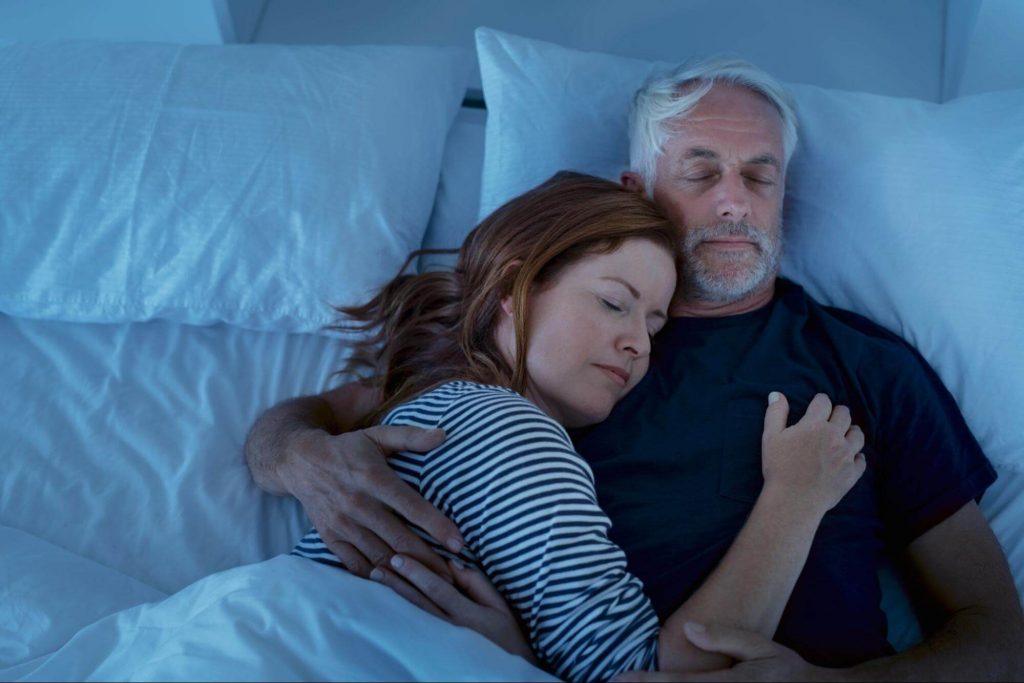 Best Beds for Migraines by Mattress Material
The material your mattress is made of is also an important consideration.
Memory foam mattresses are popular for a reason – they're comfortable. However, some people find that memory foam traps heat and can get too hot during the night. Other sleepers may be too heavy to feel fully supported by a foam mattress.
Latex mattresses are a good choice for those who want the support of a firm mattress but still want some comfort. Latex mattresses are also often hypoallergenic and dust mite resistant, which can help reduce seasonal migraine triggers.
Innerspring mattresses are the most common type of mattress and are made from coils. They usually have a good amount of bounce, which some people may find uncomfortable if they're trying to avoid movement during a migraine.
Natural Materials Mattress
A mattress made of natural materials is a good choice for those with allergies. These materials are also breathable and can help regulate your body temperature.
Best Mattresses for Migraines By Body Type
You should also consider your body type and weight as you select a mattress. The wrong mattress for your body type can make it difficult to fall asleep and stay asleep. Rest, however, is crucial to helping your body recover from migraines, so it's important to choose the right option.
Mattresses for Lightweight Sleepers
The best bed for lightweight people is often a softer mattress. They don't need to worry about sinking into the foam since they need less support than other individuals.
Mattresses for Heavy Sleepers
Heavy or obese sleepers need a mattress that can support more weight. An innerspring mattress is best for these individuals, as they are typically sturdier than other types of mattresses.
A memory foam mattress is normally too soft for heavy sleepers, and they'll find that they sink in too much and their back won't be properly aligned.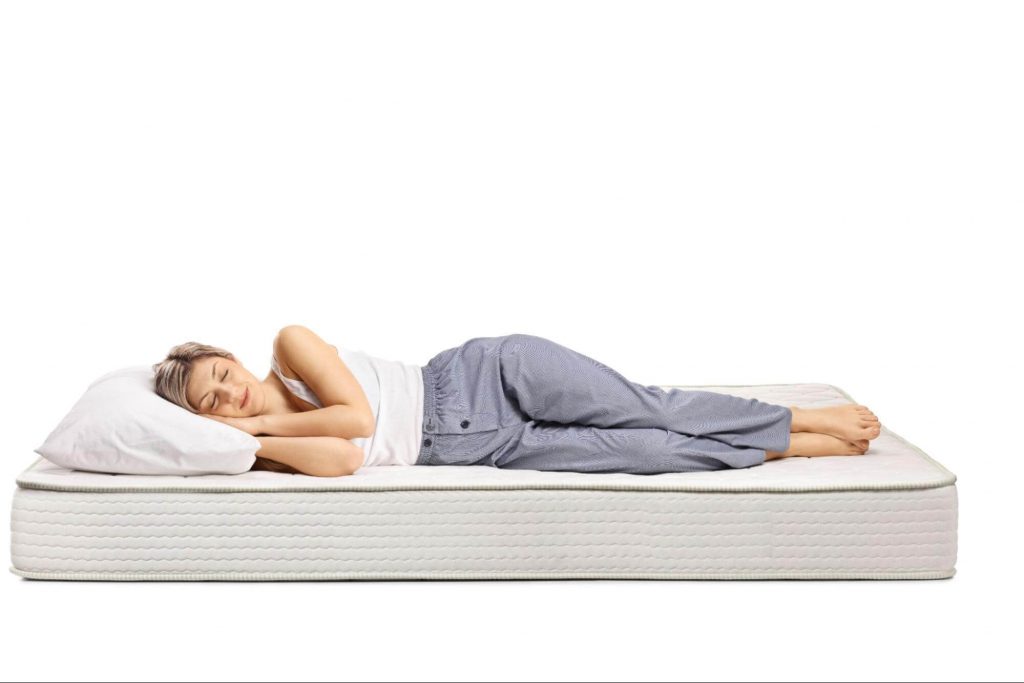 Frequently Asked Questions About Mattresses for Migraines