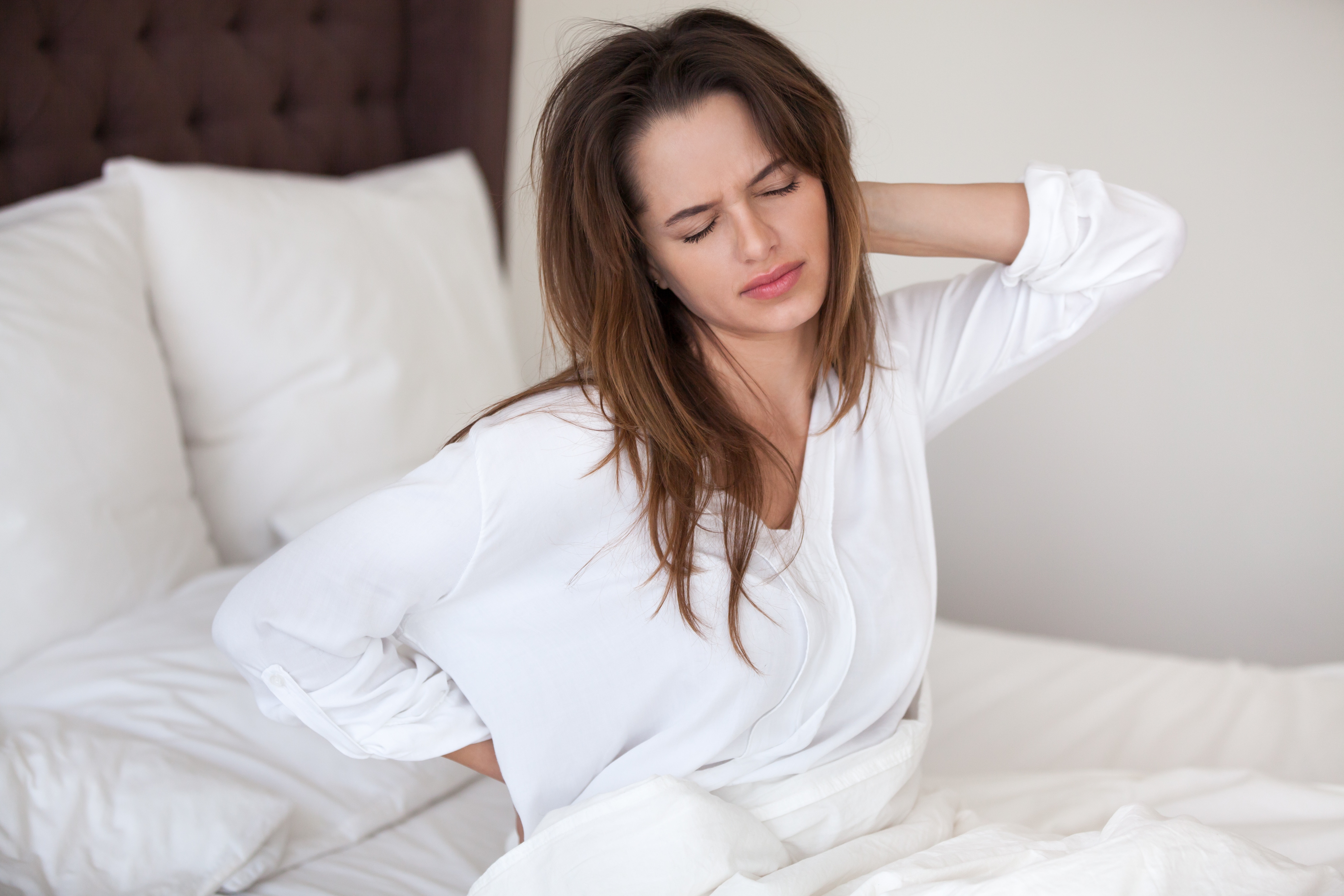 A quick note: we review products independently, but we may receive affiliate commissions when purchases are made through the links on our site.
Sleep is the most essential thing, and for a fresh day, you need to have a long and restful sleep. Sleeping on the wrong kind of mattress creates back pain problems and can even worsen problems you may already suffer. However, a good ergonomic mattress aims to provide a better sleeping posture, relaxed muscles, and a healthy sleep.

However, there is no such thing as a "perfect" mattress for everyone. It is essential that you look for a mattress that fits your requirements and your sleeping position. If you struggle with constant back pain then the last thing you want to buy is an uncomfortable mattress. Some mattresses can ruin your health and exacerbate back issues.

But the good news is that there are a number of mattresses present in the market that can alleviate and prevent back pain from occurring. A medium-firm and durable mattress can be what you are looking for to improve your spinal alignment. Mentioned in this article are the top best mattresses for back pain. Keep on reading to determine whether one of these mattresses is the best fit for you.
Mattress Comparison Chart
Best Mattresses for Back Pain
1. Saatva
Saatva is an innerspring mattress that comes with a pillow top. For sleepers who love the feeling of a traditional innerspring mattress must opt for this one. This mattress provides the sleeper with great support. Due to the coils, you can get immediate pressure relief on the pillow-top.
This also provides the mattress with a medium firmness level which is what you need when buying a mattress for back pain. Saatva mattress incorporates two layers of innerspring coil. One layer has high-grade coils whereas one layer has micro-coils. Both of these layers of coil work together in order to get rid of back pain.
The micro-coils mainly focus on contouring to the shape of the sleeper's body. Saatva mattress also comes with a layer of memory foam present in the middle of the mattress. This layer also works with the micro-coils and conforms to the shape of your body. Both these features work on keeping your spine alignment neutral and prevent back pain.
Finally, the last thing to notice about this mattress is its price point and the durability it has. This mattress is a very durable and long lasting mattress; this durability is needed when searching for a mattress for back pain. Most of the time, pillow tops are known for sagging after using it for a few years. This leads to the uneven back support, but with Saatva mattress this is no longer an issue.
2. Purple Mattress
Purple is a unique mattress present in the market. It comes with a proprietary polymer hyper-elastic gel grid. This grid makes sure that the design stays flat. It also helps in supporting your body when you apply pressure. However, when pressure is applied, only that part of the mattress gets compressed whereas the rest of the mattress remains supportive and flat.
This feature makes Purple mattress a great mattress for different kinds of a sleeper. When you lie on your back, the gel compresses itself under your butt and hips, however; the other parts of your body remain supportive. Similarly, when you sleep on the side, the gel grid collapse's under our shoulders and hips, and the other parts are held up. This mattress also provides good support when sleeping on the stomach.
This mattress is ideal for all three positions. Purple mattress also keeps your spinal alignment neutral. It is a firm as well as a pressure relieving mattress; for this reason, describing the firmness of the mattress can be difficult. Overall, the firmness of the mattress can be given a 7 out of 10. This medium firmness is ideal for back pain; also since the comfort layer of this mattress is only 2", you do not sink in the mattress.
Moreover, Purple Mattress is also a very durable mattress. The hyper-elastic gel polymer present in this is long-lasting and does not sag after using it for some time. This means that after years of use Purple Mattress remains good and supportive.
3. Helix
Helix manufacturers designed this mattress, especially for heavyweight sleepers. This mattress is made up of high-density foam. It also incorporates high-grade and tall coils in order to provide the ultimate support to larger people. The comfort layer of this mattress is only 2" thick, and there are also a transition layer present beneath it.ere...
Below this layer, there is an 8" layer of the coil that is individually wrapped. The top foam layer of this layer pushed into your lumbar area and provided extra support. Moreover, this mattress has a firmness level of 7 out of 10 and falls in the medium firm range. This mattress is specially designed to fight to sag and remain durable.
Even larger people feel confident when sleeping on this mattress since it supports them all through the night. The premium quality material used in the making of this mattress is what makes it long lasting.
4. Layla Mattress
Layla Mattress is another great mattress for relieving back pain. This is an all foam mattress. It is also flappable, and this provides the mattress with two firmness levels in one product. It makes sure of copper-infused memory foam which is ideal for a good sleep. One side is a medium soft firmness level which is a 4 out of 10 on the firmness scale. Similarly, the other side is a 7 out of 10 on the firmness scale.
If you prefer to sleep on your stomach or your back than the firmer side is for you. however, if you want a soft feel, you can always flip the mattress. Both sides of the mattress have copper infused in it. This material makes the mattress conform to your body shape. This also targets the body areas that need pressure relief.
With this mattress, your sensitive areas are provided with the pressure they need. The copper-infused in this mattress also makes the mattress be cooler and gets rid of sweat during the night. It also aims at providing the sleeper with better circulation. On the medium soft side, there is an extra layer of polyform; this layer helps in providing the sleeper with cushion and a plush feel.
The base of this mattress is made with high-density polyfoam and provides the sleeper at optimal sleep. Also, Layla mattress does not allow motion transfer, for this reason, it is a good option for couple. The mattress is also very lightweight and can be moved from one place to another easily.
5. Level Sleep
This mattress is designed especially for people who have back pain problems. The "tri-support" of this mattress refers to its zoned construction. This mattress is created in three different zones and different firmness levels. The first zone of this mattress is present in the hip area all the way down towards the foot of the bed. This zone is medium firm level and can be rated 7 out of 10.
The firmest part of this mattress is the lumbar zone and is rated 8 out of 10. The lowest zone area of this mattress is the shoulder zone, and this is softer than the average mattress. It is a 5 out of 10 on the firmness scale. These zones work with one another to make sure that your spine remains aligned.
With these zones your shoulder sinks into the mattress allowing slight pressure, the lumbar zone provides you with extra support on your lower back area; the bottom zone further makes your hip sink in more. If you are a sufferer of severe back pain, this mattress is the one for you.
If you are a combination sleeper, then this mattress is the one for you. This mattress comes with a 365-day sleeping trial and a Forever Warranty. It also comes free shipping and returns.
6. Bear Mattress
Bear Mattress is a memory foam mattress built with a medium firmness level. This mattress provides the sleeper with utmost comfort. It is designed for sleepers who have an active lifestyle such as athletes, performers, etc.
Bear mattress makes use of premium quality material in its construction, and this allows the body to recover faster and provide the sleeper with more restful sleep. The Celiant yarn cover on this mattress is extremely breathable. It helps in keeping the body cool all through the night. It also provides faster recovery and better blood circulation.
The breathable exterior along with the graphite gel-infused foam make the Bear mattress exceptional cool. Most memory foam mattresses are very warm, but Bear mattress is not. However, this mattress does not sacrifice comfort for temperature neutrality. Bear Mattress also has conforming abilities and allow pressure to be absorbed.
Bear mattress has a medium firm level. Nevertheless, it is pressure relieving while providing support for your body and your back. Sleepers who suffer from back pain issues will find that this mattress meets their requirements regardless of the fact that they are heavy or light.
7. DreamCloud Mattress
People who have an average weight look for a mattress that can conform to their body shape. The DreamCloud mattress is the perfect example of such a mattress. It is a hybrid mattress and has a firmness level of 6.5. It is medium firm on the firmness scale and is made with three layers of memory foam and a single layer of latex.
Sleepers find an improvement in their spinal alignment and decrease in back pain with this mattress. DreamCloud has the ability to target areas of pressure relieve without sagging; this makes it perfect for sleepers in the average weight category.
The pocketed coil support of this mattress is incorporated in the high-density polyfoam. This minimizes sinkage and provides edge support to the sleeper. This mattress also has a thick comfort level and does not allow motion transfer.
What to Look for When Choosing the Best Mattress to Battle Back Pain
Apart from looking at the best mattress for back pain, you must also focus on specific features that will help in reducing back pain. These features include:
The comfort layer is the most important part of the mattress; this layer has the ability to target the pressure points of your body. If it is too thin or made with cheap foam then you will not be able to fight back pain. It is important that you look for a mattress with a comfort layer of 2"-3".
Some mattresses claim to provide pressure relief but are unable to do so. Also testing out in the store can get pretty difficult; it is important that you make use of an in-home sleep trial option. This way you get a 3 months of trial. You can try the mattress and see how it works for you.

If it does not, then you can return the mattress and get a complete refund on your money.
When looking for a mattress, most people forget to focus on the most important part of the mattress, its manufacturing. No matter how good it looks and how nice the sound is, if the manufacturing is cheap and made with weak material, you can say goodbye to a comfortable sleep. If you are searching for durability and a good performance, then try to find a mattress made with premium material.

You can check the materials online in the mattress's specification area. Also, if you notice poorly designed layers in the mattress then don't invest in it.
Adjustable Frame Compatibility
Also, make sure that the mattress you invest in works with an adjustable frame. An adjustable frame allows you to move the led or head of the mattress up and down. This is needed for people who often suffer from body pain. This is also great for people with back pain issues; so make sure you are aware if your mattress can work with an adjustable frame or not.
Common Mattress Types
A latex mattress usually has layers of breathable foam. They offer long-lasting comfort and good bounce.
Similarly, an all memory foam mattress has several layers of memory foam. This plush mattress contours to your body and helps relieve pressure points.
Gel Memory Foam Mattresses
Looking for a comfortable mattress that will also have cooling properties? A gel memory foam mattress may be the best choice.
If you want the traditional support of springs or coils combined with the plush layers of a foam mattress, a hybrid mattress may be for you! This is an especially great mattress for those with back pain or other pain. It offers a wonderful luxury firm feel while providing excellent pressure point relief.
A traditional coil mattress has coils or springs inside. It often provides excellent support due to the springs inside, so it may be a good mattress for back pain depending on what your doctor or chiropractor says.
Tips for Sleeping with Back Pain
Sleeping with back pain can be difficult. Here's a bit of advice when trying to get a good night's sleep. Remember that your doctor can give you the best advice depending on your situation.
Pillows and Positions Matter
Talk to your doctor about the best sleeping position. Whether you're a side sleeper, back sleeper, or stomach sleeper, you can use pillows to prop up your body and better align your spine.
Make Sure You Have Your Spine in Alignment
Keeping your back in alignment is crucial, as bending out of place can be painful and make sleeping difficult. Find a neutral position to spend the night in.
Be Careful When Climbing In and Out of Bed
Exercise caution when you get in and out of your bed. Rushing can lead to back pain if your spine is bent wrong. A mattress with good edge support can make getting in and out easier.
How to Buy the Right Mattress for Back Pain
The best mattress is one that you can sleep on comfortably, without back pain or other aches and pains. The right mattress will also help your spine stay in alignment while sleeping. Here are some tips to ensure you get a good night's sleep.
If You're Not Sure Where to Start, Consider Medium Firm
A medium-firm mattress is often the best choice for those who suffer from back pain. The mattress is usually firm enough to support your back, but soft enough to give you some cushioning and be gentle on any pain points. However, it's a good idea to talk to your doctor or chiropractor about which mattress firmness will be best for you. Remember, every body (and spin) is different!
Choose a Mattress That Will Keep Your Spine Aligned
The right mattress can make all the difference when it comes to keeping your spine aligned. If you have back problems, choose a mattress that provides proper spinal alignment. This means choosing one that is supportive without being too hard. This will aid in the healing process and boost sleep quality.
Use Your Mattress Sleep Trial

The great thing about purchasing mattresses online is that most companies offer a lengthy trial period. It can be hard to commit to a mattress, especially if you suffer from back pain. Thankfully, many companies allow you to try out their mattresses before making a purchase. Take advantage of this opportunity and see how your mattress feels after a few weeks of use.
Can Your Mattress Help Ease Your Upper and Lower Back Pain?
When looking for the best mattress for back pain, there are a few points that you must keep in mind. These are:
Conclusion
Mentioned in this article are 7 best mattresses for back pain. People who suffer from back pain lack a good night sleep; they wake up tired and are unable to work. For a healthy lifestyle, it is important to invest in a good mattress that suits their need. All these mattresses are really good, however, choosing one of them can be a biased decision. Each mattress has their advantages and disadvantages, and at the end of the day, the best mattress is the one that fits your own requirements.
When going mattress shopping make sure that you do your own research. Search the kind of mattress perfect for you based on how you sleep. Some mattress sellers even have a smart system where they can deduce the kind of mattress you must buy according to your preference. Make use of such technology and buy a soft, comfortable mattress so that you can enjoy your sleep!
Frequently Asked Questions About Mattresses for Back Pain
What Firmness Is Best for Back Pain?
A medium-firm mattress is usually the best choice for those suffering from back pain. A firmer mattress may cause more pressure on your back than you need, which could lead to further injury. While a softer mattress might provide more comfort, it won't necessarily keep your spine properly aligned.
What Sleep Position Is Best for Back Pain Sufferers?
While there isn't an ideal position for everyone, there are a few recommended positions. Talk to your doctor about the best position for you. Some people find that sleeping on their side with a pillow between their knees helps receive pain, while others opt to sleep on their back in a slightly reclined position. Whatever you choose, remember to keep your spin aligned!
What Should People With Back Pain Look for in a Mattress?
There are many factors you should consider when searching for a new comfy mattress including mattress firmness, cooling factors if you're a hot sleeper, edge support, motion transfer, and materials.
Can Mattress Toppers Help With Back Pain?
If you have back pain you might be considering a new mattress topper or mattress protector. Usually made of foam or similar materials, these stretch across the top of your mattress. This may not be enough to alleviate back pain, however, especially if your mattress is old and worn.