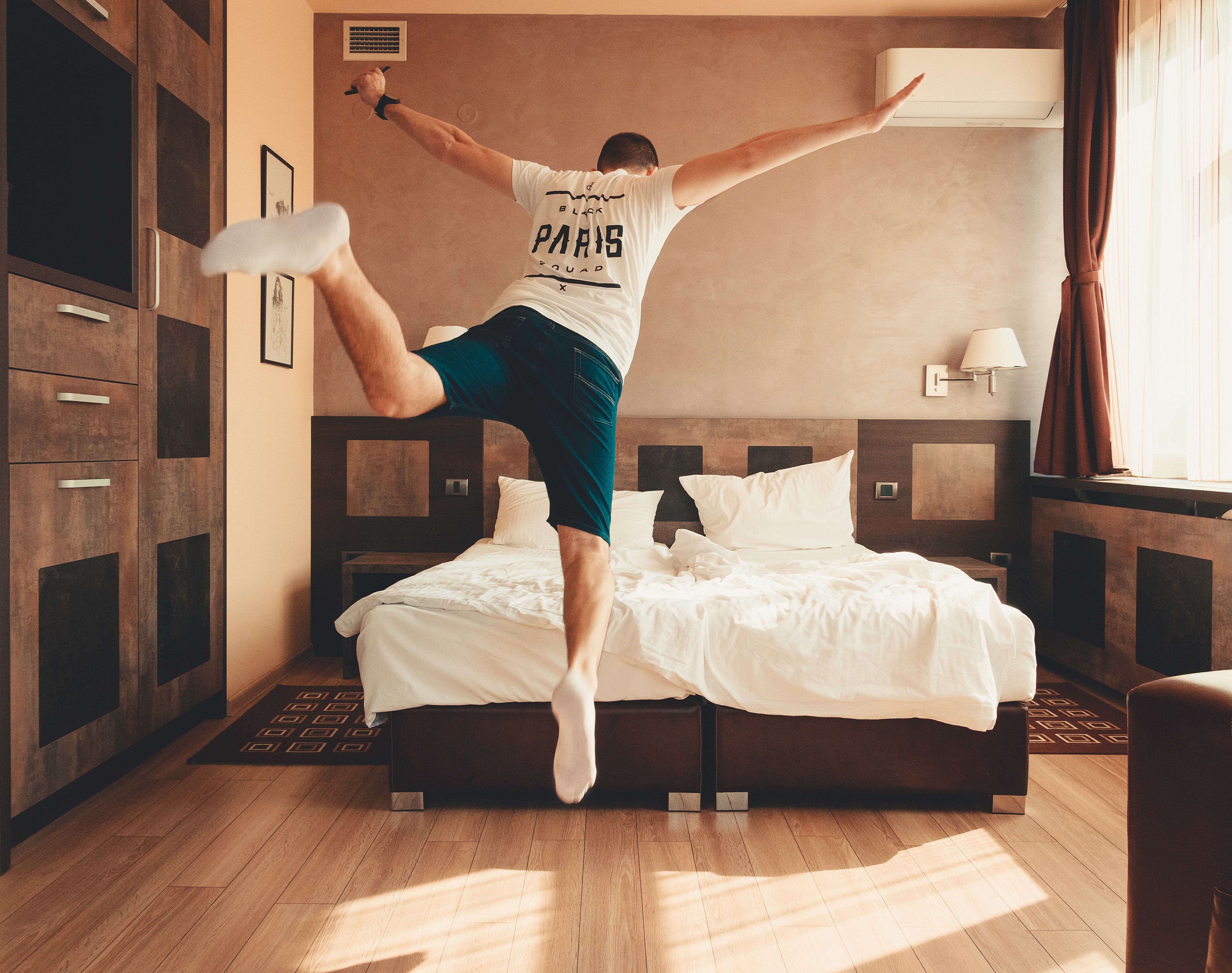 A quick note: we review products independently, but we may receive affiliate commissions when purchases are made through the links on our site.
There are many factors to consider when purchasing a mattress such as firmness, motion isolation and price that make deciding on the right mattress for you and possibly your partner a challenging decision. Additionally, if you suffer from specific issues such as back pain or you're a heavier sleeper or you sleep hot, the hunt for the perfect bed becomes even more complicated.
This roundup takes a look at the best options for those concerned with the cooling abilities of their mattresses. We'll talk a little bit about each bed, and at the end of the article, we'll declare a winner in the category of best mattress for hot sleepers.
Comparison Chart
Best Mattresses for Hot Sleepers
Do you wake up sweaty, even during the winter? Or would "human heater" be a more accurate description of your partner? Dealing with warm nights is incredibly common, but sleeping hot can lead to severe problems.
One of the main consequences of being too warm at night is that it leads to poor sleep quality. Inadequate rest translates to adverse effects in your day-to-day life, but, luckily, choosing the right mattress can go a long way in alleviating these issues.
If this sounds like you, be sure to take special care in choosing a mattress. To help you do that, we've taken the liberty of reviewing some of the best mattresses for hot sleepers. Let's take a look at our top picks.
The Ecosa Mattress is a highly versatile bed that gives users the option to adjust between three firmness levels. This option is one of the Ecosa Mattress' most significant selling points. The Ecosa bed starts on the higher end of medium firmness, and as such, boasts exceptional motion isolation that light or restless sleepers need.
It's also worth noting that this bed comes with a trio of features standard in high-end mattresses: The Ecos Mattress is waterproof, bed-bug resistant and dust-mite resistant. And its G-7 Gel Memory Foam has a built-in air-circulation system that enables air to move freely throughout the mattress and helps you sleep cool.
Muse
Hot sleepers are assured of a good night's rest with Muse, which has tackled the common issue of overheating in memory foam by designing its own materials. These high-performance fabrics are present in the cool-to-the-touch cover and throughout the layers of the bed, offering a luxurious yet fresh sleeping experience.
What makes this mattress even better is that it's available in three firmness levels, so you can choose the level best suited to your sleep style. If you're not sure what firmness level you'd like, Muse has an
online sleep quiz
to help you figure it out.
Purple
If you're looking for a solution to sweaty sleeping and want to try something different, Purple mattresses check both of these boxes. Indeed, the hyper-elastic polymer top layer is unlike anything else available, offering customers a temperature-neutral bed with a distinctly unusual—yet amazing—feel.
Purple mattresses (see our reviews for The Original Purple Mattress and The All-New Purple Mattress) represent a fantastic combination of airflow and responsiveness, a challenging mix to achieve. Plus, they do a tremendous job of relieving pressure. So not only will you sleep cool, all your joints will be pressure-free. Users love and rate these mattresses highly.
Nuvanna
The Nuvanna Mattress brings innovation and uniqueness to the world of online beds, and it does so with a patented three-layer system designed to offer incredible support and avoid the trapped feeling common in other memory foam beds.
Nuvanna's founder has 20 years of experience in product design in the bedding industry. His expertise certainly shows in the construction of this bed, noteworthy among foam beds and offering impressive comfort. Most importantly, the cooling layer is excellent at dispersing heat, so your nights stay cool.
Top Features of the Best Mattress for Hot Sleepers
Not all beds are created equally when it comes to temperature control, but what features should you look for if you sleep hot?
Type of Bed
Bed type is where we can see the most significant differences in temperature control. Each bed type makes use of different materials, some of which breathe better than others. Those that breathe the best allow for increased airflow in and out of the mattress.
Along with airflow, heat retention is another essential contributing factor of how hot you feel in bed. Some materials absorb and hold on to heat more than others, influencing the relative coolness of your bed.
So what does this look like in practice?
Innerspring Mattresses
Innerspring mattresses are generally the coolest kind of beds you can find. They're cool because the inside is just springs and air, so breathability is not typically an issue. In fact, given the lower volume of material in them, these beds can actually be cold in the winter.
Memory Foam Mattresses
On the other end of the spectrum, we've got memory foam. Memory foam's denser construction makes promoting air flow much more challenging, and, coupled with the fact that your body sinks into it, this type of bed is notorious for sleeping hot.
Manufacturers are going above and beyond to create memory foam beds that don't have heat issues, so if you sleep hot but love foam mattresses, there still may be a memory foam bed that's right for you.

Take a look at our comparison of foam vs. spring mattresses for more info!
Bed Cover Materials
Although we could go on for quite a while about which types of beds sleep cooler than others, there's another critical factor that plays a large part in determining a bed's temperature control. It's often an overlooked feature, but the materials the bed cover is made from play a large role in how hot a mattress sleeps.
After all, it's counterproductive to design a bed that dissipates heat well and put a cover on it that does precisely the opposite. Generally speaking, thinner covers are cooler, as they have less material that air passes through. These more-lightweight covers are known as non-quilted.
Non-Quilted Covers
You can find non-quilted covers on practically every online mattress. They're popular because they cost less and allow for increased air circulation, a feature necessary to keep warmer memory foam models cool.
Quilted Covers
Conventional mattresses generally include quilted covers, which complete the traditional look. They tend to be hotter because there is more fabric and material, and they often have poly foam or another type of memory foam quilted into the cover.
Phase Change Material
Phase change materials, or PCMs, are another popular cover material. They may sound futuristic—and they are. PCMs regulate temperature by absorbing body heat and releasing it at a certain temperature. They're made to achieve a specific equilibrium warmth, making them great for hot and cold sleepers.
Our Top Recommended Mattress for Hot Sleepers
So which of these mattresses is our pick for the best mattress for hot sleepers? After careful consideration of each of the top contenders, we ultimately declare Nuvanna the winner in this competition.
Although hot sleepers will find relief on any one of the mattresses we've included in this review, we picked Nuvanna for a couple of main reasons. Despite being a newcomer in the world of online beds, we believe Nuvanna offers the complete package. It is lightweight, won't trap you in the bed and, most importantly, sleeps nice and cool.
The technology used to craft this incredibly comfortable bed will help you get a great night's rest, and at $890 for a queen-size mattress, the price is right. Read more about Nuvanna and other highly ranked beds in our
best mattresses review
.