Parachute Mattress Review
A quick note: we review products independently, but we may receive affiliate commissions when purchases are made through the links on our site.
If you're looking for a masterfully-designed mattress that's both comfortable and eco-friendly, then Parachute's Eco Comfort Mattress is the mattress for you! Firm and supportive for pressure relief and spinal alignment, the mattress consists of the highest quality, natural materials including New Zealand wool and 100% organic cotton.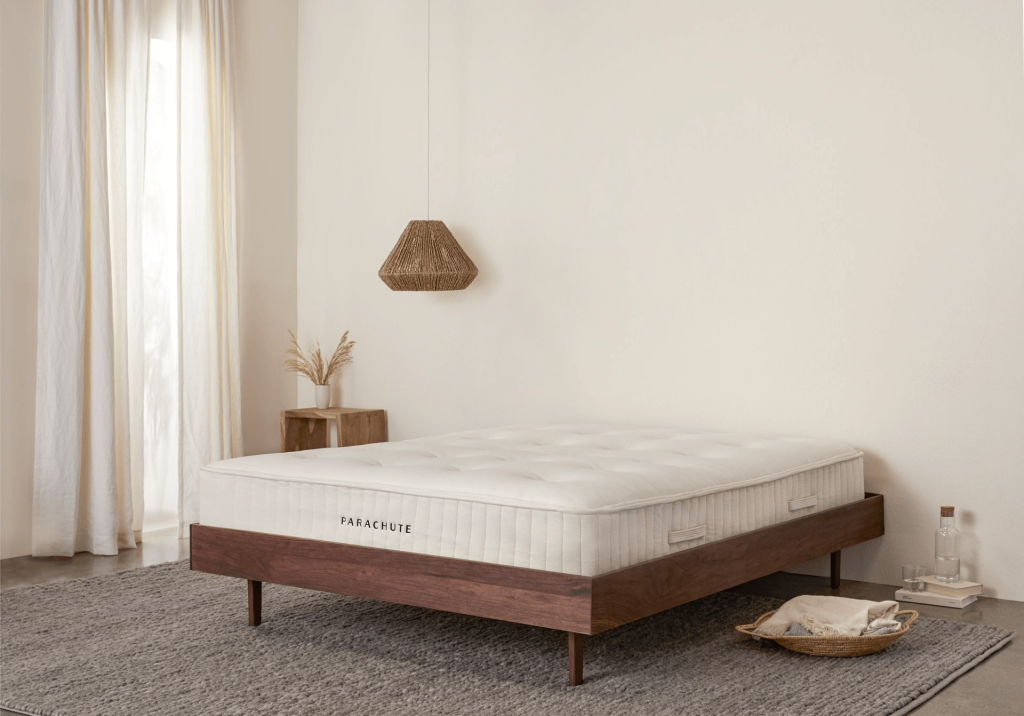 Who Is the Parachute Mattress Best For?
The Parachute Mattress is an excellent choice for a wide variety of individuals. It's soft, comfortable, and eco friendly! Here are some of the people who would benefit from this type of mattress the most:
Stomach sleepers
Back sleepers
Heavy sleepers
Hot sleepers
People prioritizing natural materials
Parachute is a mattress and bedding company based in the United States. One of their defining features is their usage of sustainably sourced materials. If you're looking for an organic mattress, they very well could be the choice for you!
Their mattresses are designed to be recyclable, breathable, and sustainable. Every material is chosen to be eco-friendly, so their mattresses are also free from any toxins like foams, adhesives, chemical flame retardants, and more.
Their mattresses are made in the USA by a fourth-generation mattress manufacturer. They know their mattresses, and their attention to quality shows. 
Parachute Mattress Overview
The Parachute Mattress, also known as an Eco Comfort Mattress, is a hybrid mattress. Firm yet bouncy and responsive, it is 12 inches thick.
What is the Parachute Mattress Made Of?
The Parachute mattress is a hybrid model, which means it contains comfort layers and coils. Unlike other hybrid mattresses, Parachute's mattress doesn't use any foam or latex in its layers, but instead uses New Zealand wool. The wool is breathable and allows for consistent airflow.
Layers in the Parachute Mattress
The mattress has three layers of microcoils, then a wool batting layer, and then a supportive layer of standard pocketed coils.
Because of the materials, the Parachute bed feels pretty firm, like a traditional coil mattress. Rather than sinking into the mattress, it feels more like you're floating on the mattress.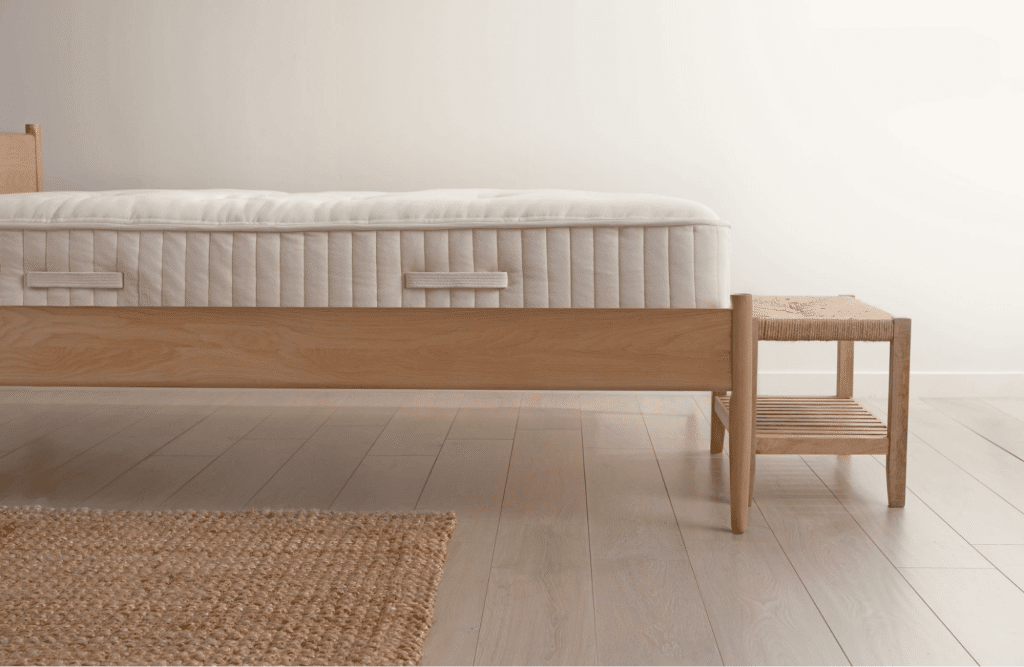 | Mattress Size | Dimensions |
| --- | --- |
| Twin | 38″ X 75″ X 12″ |
| Twin XL | 38″ X 80″ X 12″ |
| Full | 53″ X 75″ X 12″ |
| Queen | 60″ X 80″ X 12″ |
| King | 76″ X 80″ X 12″ |
| California | 72″ X 84″ X 12″ |
Sleep Style Compatibility With the Parachute Mattress
The way you sleep is a very important factor to consider when you purchase any mattress. Here's our breakdown of Parachute for different sleeping positions:
Is the Parachute Mattress Good for Back Sleepers?
Back sleepers who enjoy a firm-mattress like a traditional coil mattress will likely find that Parachute is a good fit. If they prefer something softer, they may need to opt for a different mattress.
Is the Parachute Mattress Good for Stomach Sleepers?
Parachute is good for stomach sleepers since it's very supportive and will keep their back properly aligned while they sleep.
Is the Parachute Mattress Good for Side Sleepers?
The Parachute mattress is too firm for side sleepers to get a good night's sleep. They'll likely find that their shoulders and hips can't sink into the mattress, putting uncomfortable pressure on those areas. A softer mattress would be better for side sleepers.
Is the Parachute Mattress Good for Combination Sleepers?
A Parachute bed is bouncy and responsive, which makes it good for combination sleepers who prefer to be able to change position easily.
Parachute Mattress for Different Weights
Body weight is another factor to consider. Thankfully the Parachute bed works pretty well for sleepers of different sizes.
Lightweight stomach sleepers and side sleepers may find that the Parachute Mattress is not especially comfortable for them since it's so firm. However, if you like a firm mattress then it would likely be a good fit.
Because the Parachute Mattress has four layers of coils, it is extremely supportive, and works well even for sleepers over 230 pounds. Some mattresses don't have strong enough edge support for heavier sleepers, but Parachute stands up to the challenge. You don't need to worry about the edges giving out.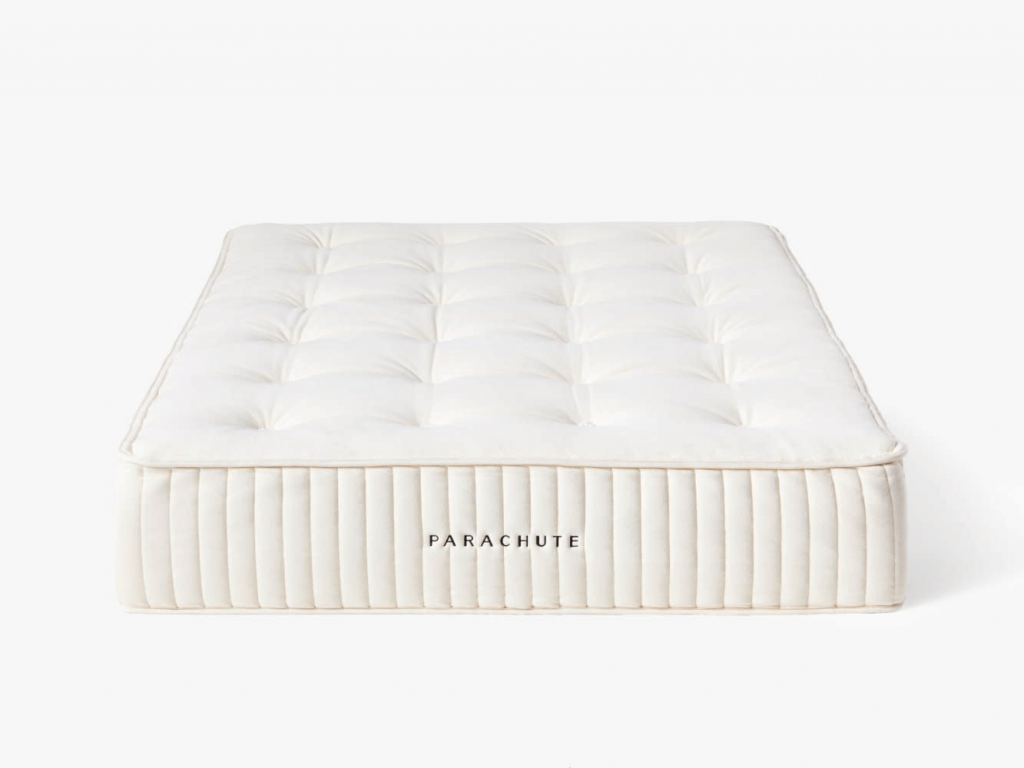 Parachute Mattress Performance Review
There are many different factors you need to consider when choosing a mattress. No two bodies are exactly alike, and you probably have your own preferences when it comes to mattresses. You also might have some medical conditions, or may sleep with a partner. Make sure you keep all these things in mind! Here's how the Parachute mattress stacks up:
One of the first questions you likely have is whether or not a mattress from Parachute provides adequate pressure relief.
Side sleepers may find that the firm mattress presses too much on pressure points and doesn't provide enough pressure relief. The mattress would be better for other types of sleepers. 
The Parachute mattress is very supportive, so you don't need to worry about your body sinking into it too much. You'll find, though, that the wool material doesn't contour to your body like a foam or latex layer would.
If you prefer a softer layer on top of your mattress, we recommend you purchase the Parachute mattress topper.
The Parachute Mattress provides terrific edge support. The firm mattress has multiple layers of springs, so they support you and prevent you from sinking in if you're lying on or near the edge of the bed.
The mattress is great for those who need support when climbing in and out of bed. Parachute's edges are tough enough to If you toss and turn, you won't need to worry about rolling off the bed. 
The Parachute Mattress is a hybrid with four layers of coils. Because of this, it feels nearly as bouncy as an innerspring mattress. The wool batting doesn't absorb movement as well as a foam or latex mattress would, so it's easier to feel movement on the other side of the bed.
Is a Parachute Mattress Good for Sleeping With a Partner?
Motion isolation is crucial for people who sleep with partners. While some people are able to share the Parachute Mattress without issue, if you or your partner tends to get up a lot throughout the night or toss and turn, it may not be the best choice for you.
Is the Parachute Mattress Noisy?
The Parachute Mattress is slightly noisy due to the springs. They may creak occasionally, but are still going to be more quiet than most traditional coil mattresses on the market.
Good temperature control is important for everyone, but the cooling properties of a mattress are even more important for hot sleepers.
The Parachute Mattress does not disappoint! Thanks to the layer of natural wool batting, the mattress is breathable and does an excellent job of wicking away moisture instead of keeping it trapped against you. The coil layers allow for consistent airflow, which regulates the temperature. To top it off, the mattress features a breathable organic cotton cover.
Parachute Mattress Handling and Delivery
Choosing a mattress doesn't end with mattress construction, it also depends on the company's policies around shipping, warranty, and more.
Parachute offers free carbon-neutral shipping to the continental US. Free delivery doesn't apply to Alaska, Hawaii, or US territories, but they may still be shipped to those locations (and a handful of international spots).
According to the website, shipping is fast. Parachute has all mattress sizes ready to ship within one to three business days.
Every Parachute Mattress comes with a 10 year warranty. Should your mattress develop a defect, the company will try to repair the issue. In the case a repair isn't possible, Parachute will replace your mattress.
What Does the Parachute Mattress Warranty Cover?
Your mattress will be covered in the case of manufacturing defects. These include split or cracked materials, but not normal wear and tear.
Parachute offers a 100 night sleep trial, which is similar to a lot of other bed in a box companies. Although some other companies offer a 365 night trial, 100 nights is often enough to figure out whether or not the mattress is a good fit for you.
You can return your mattress at any point during the first hundred days. If you need to return it, Parachute will send someone to pick up the mattress for you. That way you don't need to worry about returning it yourself.
How to Set Up Your Parachute Mattress
Your mattress will arrive compressed and vacuum sealed in plastic. The box will weigh up to 120 pounds, so you may need someone to help you if you're ordered one of the larger sizes.
Before unboxing it, you'll need to move it to the room where you want it. Once you're there. Open the box and unwrap the plastic. The mattress will slowly expand.
How Long Does It Take for the Parachute Mattress to Expand?
It will take up to 48 hours for your mattress to fully expand. You will not be able to sleep on it until it's taken the final shape.
Parachute Mattress Off Gassing
When you first take plastic off of a mattress, there will be some odors, and the process is known as off gassing. This is especially true for beds with foam or latex layers. The Parachute Mattress, however, releases very few odors. The wool batting may smell a little after being condensed. The smells are normally gone within a couple of days, especially if you place the mattress in a well-ventilated room.
The coils in the Parachute Mattress offer good air circulation, which helps smells dissipate faster than they would in all foam mattresses.
Where to Buy the Parachute Mattress
Have you decided that a Parachute mattress is for you? You have a few different options for purchasing it.
Parachute Mattress Online
The best place to buy the Parachute Mattress is online. This is normally where you can find the best deal on the mattress.
Parachute Mattress Stores
It is also available at select Parachute Home stores and Crate and Barrel stores. You can also find Parachute bedding at these locations. Locations are limited, and there may not be a store near you.