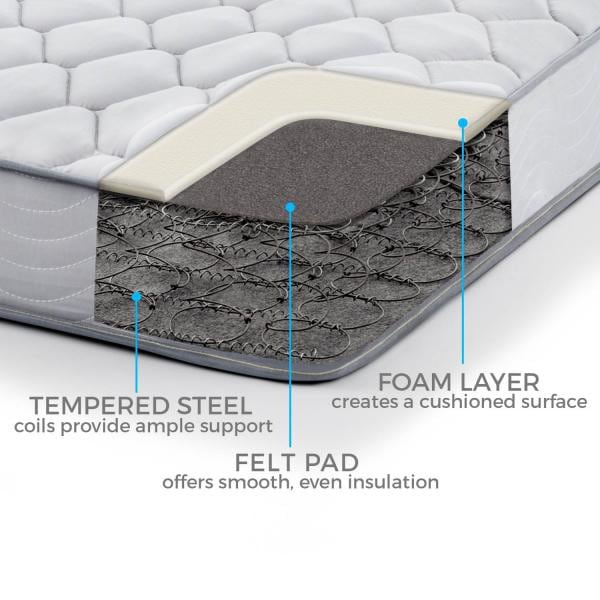 A quick note: we review products independently, but we may receive affiliate commissions when purchases are made through the links on our site.
Over the last decade or so, memory foam mattresses have been all the rage in the bedding industry. While there's plenty of benefits of these mattresses, there's also a lot to be said for the tried-and-true reliability and comfort of an innerspring mattress.
With so many different brands and beds on the market, narrowing down the field and finding the perfect bed for you is far from easy. Today, we're going to take a look at the best innerspring mattress choices to help you decide on which mattress is going to be best for your needs.
Innerspring Mattress Comparison Chart
| Brand | Rating | Features | |
| --- | --- | --- | --- |
| | | | |
| | | | |
| | | | |
| | | | |
| ALLSWELL (MOVE ONE UP) 100 Night Sleep Trial | | | |
Best Innerspring Mattresses
Without further adieu, here's a closer look at what you can expect from some of the best innerspring mattress options currently available. Some are hybrids, while others are classic coil mattresses. All of these options promise a great night's sleep and impressive comfort and durability.

1. Tomorrow Sleep Hybrid
Tomorrow Sleep is one of the newest mattress companies, but they're also one of the most powerful, having received significant financial backing from Serta Simmons, America's largest mattress manufacturer.
The Tomorrow Sleep Hybrid is an engineering marvel, with a total of six different layers. The top layers of the mattress feature three different types of foam.
At the very top, a 1" high-density memory foam with phase change material is designed to keep the sleeper cool and comfortable throughout the night. Below that layer is ½" of ultrasoft gel, which is designed to relieve pressure and provide even more comfort.
Rounding out these top layers is a 1 ½" "bounce layer" that responds very slowly to pressure, helping to keep the sleeper from sinking too deeply into the mattress.
Below this hybrid layer is a system of pocketed coils which are encased in polyfoam around the top, sides, and bottom. This layer provides the traditional feel of an innerspring mattress, along with all the benefits associated with a coil bed.
Tomorrow Sleep offers both a medium-soft and medium-firm option for this bed. While the construction is identical for both mattresses, different density foams are used in each one to achieve the proper firmness.
Both mattresses offer impressive edge support, and transfer very little motion, making it an ideal choice for couples. The Tomorrow Sleep Hybrid is ideal for anyone looking for a memory foam feel without having to worry about sleeping hot, couples, and anyone who likes a bit of bounce to their mattress.
Tomorrow Sleep offers an incredible 365-day trial period, a ten-year warranty, and free shipping in the contiguous United States.
2. Saatva Mattress
Saatva is one of the original direct-to-consumer mattress brands, and they've been in business since 2010. They also manufacture latex mattresses under the Zenhaven brand and memory foam mattresses under the Loom & Leaf brand. They're well known for providing luxury innerspring mattresses for significantly less than other top-of-the-line brands.
This mattress features a luxurious European pillow top with a thin ½" layer of memory foam beneath designed for superior comfort and lumbar support.
Below this foam layer is the first layer of coils. This layer features hundreds of individually wrapped comfort coils designed to reduce motion transfer. Below that, a layer of open support coils lends even more comfort and support.
The coil-on-coil construction used by Saatva is considered the industry standard in luxury innerspring mattresses, but Saatva manages to offer such luxury at a much more attractive price point. These mattresses are roughly half the price of other coil-on-coil options.
Thanks to a dense layer of foam encasing the coils, this mattress also offers superior edge support, which is ideal for those who like to sit or sleep on the edge of the bed.
Unlike many of their new competitors, Saatva is not a mattress-in-a-box provider. They offer a white-glove delivery service, free of charge, and a 120-night trial period. Their mattresses are made in the USA and carry a 15-year warranty.
3. Allswell Luxe Hybrid Mattress
Another recently launched company clamoring for your mattress dollar, Allswell delivers a luxury bedding experience at an exceptional price point, making it one of the most desirable hybrids currently available.
This mattress features a luxurious top with 3" of foam beneath. This layer is a combination of climate controlling memory foam with an ultra soft foam layer beneath. Below that is a comfort foam layer of slow-responding foam which helps contour the body without giving you the feeling that you're sinking into the bed. Rounding out the foam layers is a soft 2.5" polyfoam transitional layer which provides increased buoyancy and bounciness.
After all that foam, we reach the core of the mattress, a 7.5" thick pocketed coil system. The coils provide even more bounce, and support. Despite the multiple foam layers, this hybrid has the feel of a traditional innerspring mattress.
Like most coil mattresses, the Allswell Luxe Hybrid provides impressive edge support. However, despite all of its high-tech foam layers, this mattress does a poor job of isolating motion, which can probably be attributed to the bouncier foam layers in the middle of the mattress.
Allswell mattresses are significantly cheaper than most competitors, but they also don't offer free delivery, which is a staple for most bed-in-a-box manufacturers. That said, the delivery charges are very reasonable: $25 for basic delivery and $99 for white-glove service.
Allswell offers a 100-night trial and a ten-year warranty on all their mattresses.
4. Layla Mattress
Layla Mattress is another great mattress for relieving back pain. This is an all foam mattress. It is also flippable, providing the sleeper with two firmness levels in one product. Its copper-infused memory foam is ideal for a good sleep. One side is a medium soft firmness level, which is a 4 out of 10 on the firmness scale. Similarly, the other side is a 7 out of 10 on the firmness scale.
If you prefer to sleep on your stomach or your back than the firmer side is for you. however, if you want a soft feel, you can always flip the mattress. Both sides of the mattress have copper infused in it. This material makes the mattress conform to your body shape. This also targets the body areas that need pressure relief.
With this mattress, your sensitive areas are provided with the pressure they need. The copper-infused feature of this mattress also makes the mattress be cooler, preventing the sleeper from waking up covered in sweat in the middle of the night. It also aims at providing the sleeper with better circulation. On the medium soft side, there is an extra layer of polyform; this layer helps in providing the sleeper with cushion and a plush feel.
The base of this mattress is made with high-density polyfoam and provides the sleeper optimal sleep. Also, Layla mattress does not allow motion transfer, for this reason, it is a good option for couple. The mattress is also very lightweight and can be moved from one place to another easily.
5. Level Sleep
This mattress is designed especially for people who have back pain problems. The "tri-support" of this mattress refers to its zoned construction. This mattress is created in three different zones and different firmness levels. The first zone of this mattress is present in the hip area all the way down towards the foot of the bed. This zone is medium firm level and can be rated 7 out of 10.
The firmest part of this mattress is the lumbar zone and is rated 8 out of 10. The lowest zone area of this mattress is the shoulder zone, and this is softer than the average mattress. It is a 5 out of 10 on the firmness scale. These zones work with one another to make sure that your spine remains aligned.
With these zones your shoulder sinks into the mattress allowing slight pressure, the lumbar zone provides you with extra support on your lower back area; the bottom zone further makes your hip sink in more. If you are a sufferer of severe back pain, this mattress is the one for you.
If you are a combination sleeper, then this mattress is the one for you. This mattress comes with a 365-day sleeping trial and a Forever Warranty. It also comes free shipping and returns.
Why Choose an Innerspring Mattress?
While memory foam beds are growing in popularity at a rapid rate, the coil mattress is still the most popular type, and for many good reasons. Here's why people opt for innerspring options over memory foam.
Superior Support
Inside a coil mattress are dozens of coils or springs, which respond in real time to the contours of the sleeper's body. This allows you to sleep comfortably in whatever position you like, knowing that your mattress can adapt to any movements you make or position you prefer.
While memory foam beds can also be exceptionally comfortable and supportive, they don't adapt to the contours of your body as well as an innerspring does.
Durability
One of the most well-documented problems with memory foam mattresses is durability. While these mattresses are long lasting, they tend to wear more quickly, and more unevenly than a coil mattress.
Over time, foam or gel can break down, or lose its shape, leading to body impressions, or dips in areas of the mattress. This can lead to poor quality sleep, and may even contribute to larger issues, like back and neck pain.
Temperature Control
No one likes to wake up too hot or too cold. While scientists are continually developing new foams and gels designed to help you sleep cool, few memory foam beds deliver on their promise of a perfectly temperate sleep experience.
This is in large part because foam is dense, and it's difficult for air to flow through the mattress. This makes it easier for the mattress to retain heat. Meanwhile, the best mattress options have plenty of air flowing through the mattress, which helps you to regulate your temperature and keeps you from waking up in a pool of sweat the next morning.
Innerspring Mattress Types
When it comes to a coil mattress, there are three different types to choose from--the open coil, the pocketed coil, and the hybrid mattress.
Open Coil
Open coil mattresses are mostly considered to be entry-level products. They're affordable and fairly comfortable, making them a great choice for occasional use, like in a day room or guest bedroom.
There are several different types of open coil mattresses, including continuous coils, which are also on the cheaper end of the spectrum and offset coils, which are still affordable, but more expensive and luxurious than other types of open coil mattresses.
This type of mattress features a network of interconnected coils. While these mattresses are the cheapest to make, they don't provide the same level of support or comfort as other mattress types, they make more noise, and they transfer motion much more easily than other types.
Pocketed Coil
Pocketed coil mattresses feature dozens of individually sealed coils which are completely independent of the other coils in the mattress. Each coil is individually wrapped in fabric and ultrasonically sealed.
While pocketed coil mattresses are much more expensive than open coil varieties, all you need is one night to truly feel the difference. Pocketed coil beds are much more supportive and comfortable, they're quiet, and they hardly transfer any motion at all. If you're looking for a quality, durable innerspring mattress, a pocketed coil will usually be your best bet.
Hybrid
Hybrid mattresses bring the best of both worlds to the table, allowing you to reap the benefits of a memory foam bed, without giving up the active support provided by a pocketed coil mattress.
Hybrid mattresses are especially well suited to side sleepers, as well as anyone who experiences back, neck, or shoulder pain. These mattresses truly provide the "best of both worlds" in the sense that they offer the pressure relief associated with a memory foam mattress while still maintaining all the best characteristics of an innerspring.
Conclusion
These 5 innerspring mattresses have tons of benefits for many different types of sleepers. We can't give you a definite answer on what's best for you, since you know your body best. Once you determine which qualities are most important to you, choose the best type of innerspring mattress for you and potentially your partner.
Don't forget to explore the unique deals that each brand offers.