A quick note: we review products independently, but we may receive affiliate commissions when purchases are made through the links on our site.
Nuvanna was founded in 2016 by material scientist, Alvero Vaselli. Alvero saw that today's younger generations are living in a state of imbalance and increased stress. He recognized that lack of sleep is both a cause and a consequence of these high stress levels. Nuvanna was born out of his desire to do something about this growing problem.
The Nuvanna mission is, "to help maturing millennials reduce stress and find balance" by "providing everything they need to get more restful sleep and achieve a healthy lifestyle". When you purchase a Nuvanna mattress, you get more than just a place to sleep. You become part of a community of coaches, nutritionists, and sleep experts who are ready to help you live your best life. Many customers comment on how helpful the Nuvanna community is. In this way, Nuvanna is as much a movement as it is a mattress company.
Nuvanna mattresses are designed with the active individual in mind. Therefore, they have been specially formulated to help your body recover while you sleep, so that you wake up energetic and rejuvenated. Their three-layer system focuses on cooling, motion control, and support, to ensure that you get the best possible sleep experience.
How They Are Made
Cover
Nuvanna covers their mattresses with premium TENCEL mattress covers. These covers are revolutionary in the sleep industry. They are made with high-tech, eco-friendly, moisture-wicking fibers. These special fibers are more absorbent than cotton, softer than silk, and cooler than linen. Also, the covers just look great. They are a lovely two-tone white and gray pattern with fancy embroidery all around the sides.
  Top Layer

Nuvanna's top layer or "Ascension layer" is comprised of 2 inches of an adaptive hybrid foam. This basically means that it is a special foam that reacts quickly to changes in weight and movement. It does a great job of cradling your body and providing relief for all of your pressure points. Built into this foam is Nuvanna's proprietary phase-changing gel. This is a technologically advanced cooling gel that works its cooling by swiftly dispersing heat to keep you cool. It goes hand-in-hand with the TENCEL cover to provide one of the coolest sleep experiences in the industry.
Middle Layer

Nuvanna's second layer is called the "Equilibrium layer". It consists of 2 inches of open cell memory foam. This larger celled foam helps to dissipate heat, but its main purpose is motion isolation. In fact, the equilibrium layer is a master at absorbing motion. It responsively isolates sleep movements so that you cannot feel what your partner is doing on the other side of the bed. This layer also works in tandem with the top layer to offer additional pressure relief and contouring.
Bottom Layer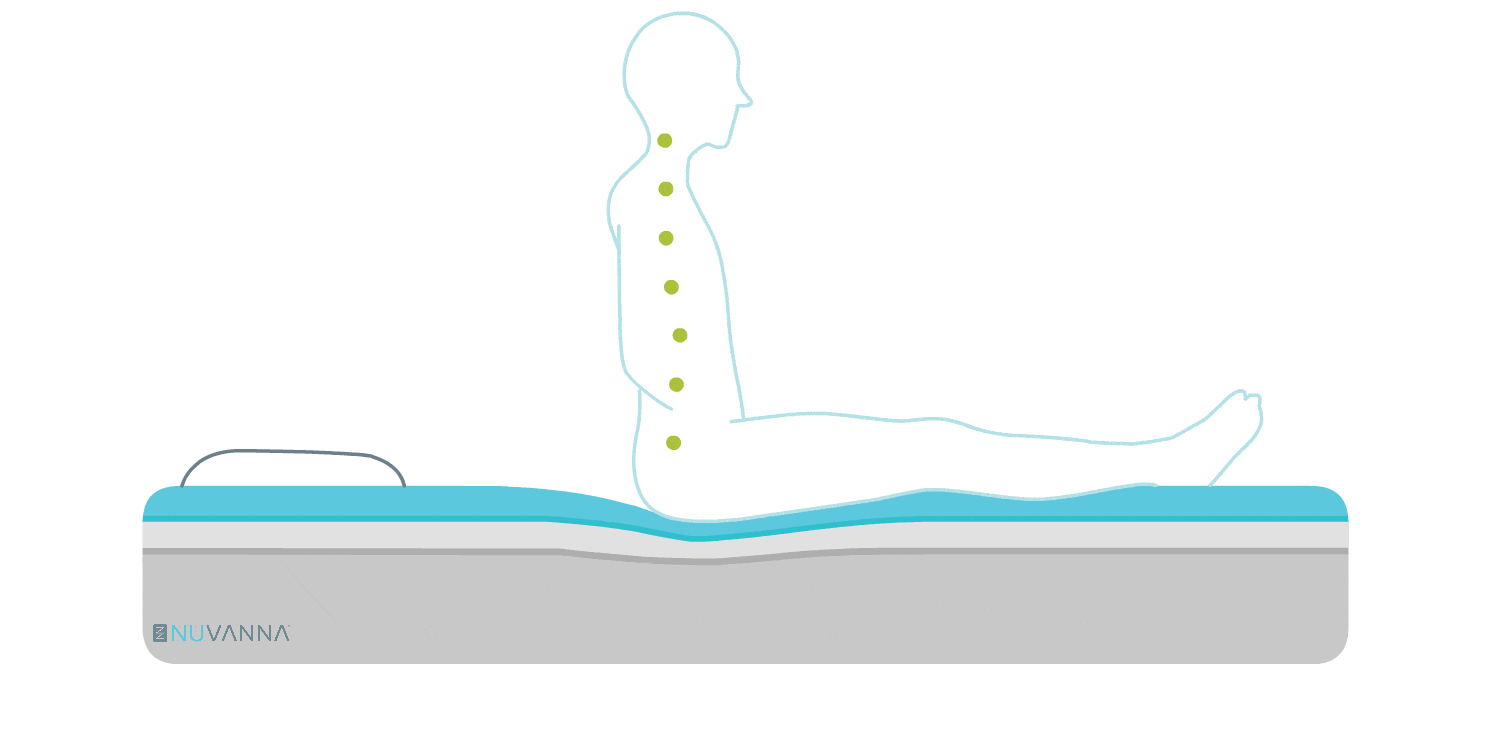 The third layer is the "Foundation layer" or support layer. This is the backbone of the bed. It is made out of 6″ of open cell foam and is the base of Nuvanna's Progressive Support System, or NPPS. This system is specially designed to prevent the sinking feeling which can be common in foam mattresses. Also, it promotes proper spinal alignment by evenly distributing your weight and supporting each of your body parts individually. This is great for alleviating back pain. The foundation layer is sturdy enough to allow you to use the Nuvanna on any surface type, including the floor. Nuvanna does sell a really nice foundation, but it is not necessary that you use it.
Firmness
The Nuvanna mattress comes in one firmness level which is about a 6.5 on the firmness scale. This is going to be a good firmness rating for most people. Nuvanna also claims that their mattress is designed to uniquely respond to various body sizes and sleep positions so that it will adapt to most people and adjust for their comfort.
Motion Isolation
The Nuvanna has excellent motion isolation due to the Equilibrium layer.
Cooling
The open cell foam of the two lower layers combine with the phase-changing gel and the moisture wicking TENCEL cover to give an incredibly cool sleeping experience.

Best Mattress For An Active Lifestyle
10% Off
Sales & Shipping
Nuvanna is exclusively sold online which enables them to keep their costs down. Shipping is free. Your mattress will arrive in a 3 ft box, which makes it easy to carry through your home, or up and down stairs. Setup is simple. Just remove your mattress from the box, unroll it and remove the plastic.
Trial Period & Warranty
Nuvanna offers a 100-night risk-free trial. This gives you plenty of time to see if the mattress is a good fit. If for some reason you decide it isn't right for you, just give them a call and they will arrange a pick-up and refund the whole purchase price. Nuvanna never sells their returned mattresses. They donate them to the Salvation Army or other charitable organizations.
All mattresses come with a ten-year limited warranty, which covers any manufacturing defects. This warranty is extended to the original purchaser only.
Conclusion
Best Mattress For An Active Lifestyle
Nuvanna seems to be doing pretty much everything right. They have created a high-quality product that is also one of the most advanced on the market. It is comfortable, supportive, and sleeps very cool. Their customer service and delivery teams consistently receive rave reviews. Also, Nuvanna's prices are surprisingly low considering the quality and advancement of their mattress. We consider Nuvanna to be a fantastic deal for the money.
Trial Period and Warranty
8
PROS
Innovative and unique technology
Great value for the money
Awesome community of people
Good for recovery from intense activity
CONS
Nuvanna only offers one model
Relatively new company
To see more top rated mattresses, check out our Top Ten List