Okay, now here's the review. 🙂
Review of Puffy as a Company
Puffy is a newcomer in the world of memory foam mattresses, but they have hit the market with a bang and we're here to review it. Although just launched in 2017, the Puffy mattress comes as the result of four years of intense research and development, different foam formulations, and sleep trials. The R&D seems to have paid off, as they have been rated the best mattress of 2018 by Highlight Reviews, as well as the most comfortable mattress of 2018. And the awards have continued into 2020 and beyond. If your bed needs an upgrade – especially if you DO NOT want latex in your memory foam mattress – this could be your non-toxic solution.
Puffy designed their mattress with the goal of universal comfort in mind. The team wanted to create a mattress that would be comfortable for the vast majority of sleepers and their preferred sleeping positions. Their logo is a cloud, and many reviewers have in fact described their sleep experience as giving them the sensation that they were sleeping in the clouds. We've found that those who purchase from Puffy online at Puffy.com or through dealers, that they rate the business highly.
Puffy currently offers two different models (it's now three as of this update!). The original Puffy and the new, Puffy Lux, and now Royal, too! Both mattresses fall in the range of medium firmness on the firmness scale. The Lux has an extra layer of memory foam, making it two inches thicker than the original. It sleeps a little softer as well, and is more adaptable to all sleeping positions, especially side sleeping. It uses the same patent-pending cooling cloud technology, so you will sleep just as cool. While it's not a spring mattress, people that are near or well over 300 lbs have had no issues that we could find on reddit or anywhere else. But before you look at the difference between this and, say, Leesa, Needle, of Tuft – make sure you consider any pain that you may be having with your current mattress and whether it's on a standard base or an adjustable.
How The Puffy Mattress Is Made
All Puffy mattresses are made with Certipur-US certified foam, using environmentally friendly practices. This means that they are guaranteed to be free of any harmful chemicals, ozone depleters, or other pollutants. Not only is this better for the environment, it is also better for your health. You don't have to worry about inhaling any dangerous fumes or having chemicals leach into your skin while you sleep. Puffy mattresses are also 100% manufactured in the USA so you can sleep soundly knowing that you are supporting American jobs.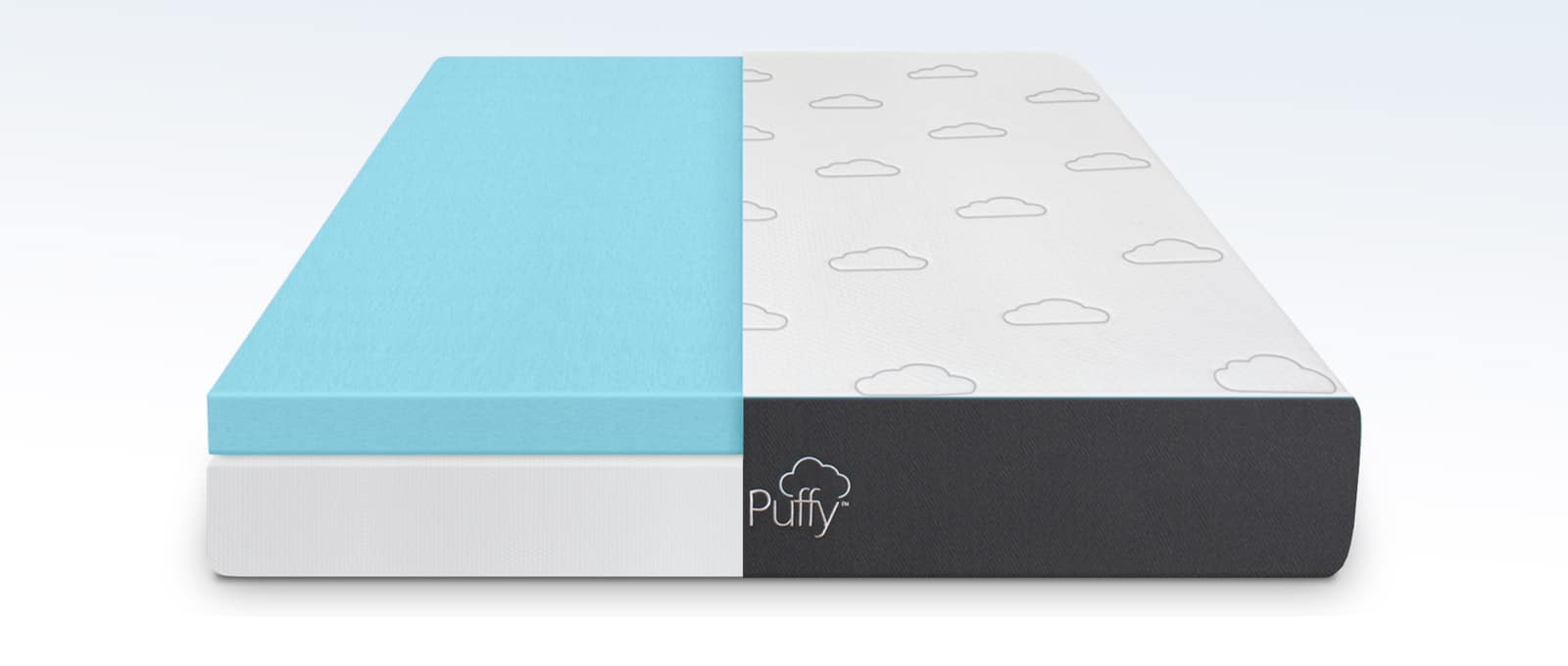 Cover
The Puffy mattress cover is 100% polyester and is removable and machine washable.
Bottom Layer
The 6″ bottom layer is made from Puffy's Firm Core Support Foam. This special foam uses Insta-Firm technology to provide 99% better responsiveness and 4x the support of a regular mattress. It is specially designed to ensure proper spine alignment, but still be giving enough to adapt to your body shape. This gives you the pressure relief that you need to be comfortable, thereby reducing tossing and turning. It is sturdy enough to allow the mattress to be used on any surface.
Top Layer
Puffy claims that their patent-pending 4″ Cooling Cloud Memory foam layer is the magic that makes them the best mattress of 2018. This gel-infused foam uses a special cooling technology to whisk heat away from your body while you sleep. The Cooling Cloud provides 8x more airflow than a standard foam mattress. It also molds to your body, relieving your pressure points and providing comfort to tired joints.
Puffy Mattress Firmness
Puffy designed their mattress to be comfortable to the widest possible range of people. It has a medium firmness level, which is perfect for the average sleeper, hitting the firmness scale somewhere between a 5.5 and a 7. This is suitable for all sleeping positions, and whatever pillow you use, so whether you sleep on you back, stomach, or side, you will get a good night's rest. The mattress is also available for sale with an adjustable frame – and you can get a discount on that as well. Simply enter in a coupon promo code to reveal how much the cost will end up being for their beds. Typically, the discounts and deals you'll receive with Puffy are consistent.
Motion Isolation
Puffy uses high-quality foams in the construction of their mattresses. This allows them to have one of the best weight distribution systems on the market. Translation? There is almost no motion transfer in their mattress. So even if you happen to have a partner that moves around a lot or likes to grab a midnight snack, you won't be disturbed. Many have also mentioned that the pad you get with many beds makes the twin mattress as comfortable at the tempurpedic beds you may have tried in the store.
Cooling
As we stated previously, Puffy makes all of their mattresses with their proprietary Cooling Cloud Memory Foam. This does a really good job of keeping you cool while you sleep. The gel in the foam absorbs body heat and helps in dissipating it. The whole mattress is also breathable which prevents heat build-up. The firmness level prevents excessive sinking which is a common cause of over-heating. Basically, Puffy designed their cooling system really well so that you don't have to worry about sleeping hot.
Sales & Shipping
Puffy mattresses are available exclusively on the Puffy web site. Puffy is not sold on Amazon, Costco, or in any brick and mortar retail stores. Like most memory foam mattresses these days, they are compressed, vacuum sealed, and put in an easy to handle box for shipping for the customer for assembly at the location of their choice. Once opened, the mattress will expand in a very short time. They don't weigh more than one or two people can handle. Shipping is free in the continental US and Canada. Shipping to Alaska, Hawaii, and overseas territories sells for $150.
There's no need to wash the mattress, but if you have a topper or protector, you may want to clean it in the wash (we don't remember seeing this in the instructions).
Trial Period & Warranty
Puffy stands behind their products. Service and simple setup are important to them. They offer a 101-night risk-free trial. It is recommended that you allow 3-4 weeks for your body to adapt to your new mattress. However, if you are unhappy at any point during your trial period, you can return your Puffy for a full refund (shipping charges to Alaska, Hawaii, and Canada will not be returned). All you have to do is call the company, and they will arrange to have your mattress picked up and donated to a local charity. So, if you've been asking yourself, "Is Puffy mattress any good?" you can buy a puffy lux or royal and feel good about it – knowing your can return the mattress if you buy a Puffy.
Puffy is so confident in their mattress that they offer the best warranty policy in the industry….lifetime. The Puffy lifetime warranty covers all manufacturer defects for as long as you own the mattress. Puffy also offers a cool "Quick Sleep" option. If your mattress is more than 10 years old, you can buy a brand new mattress for half of the original price that you paid. The consumer who doesn't appreciate that should just head to amerisleep, grab a blanket, ask to test and try out some old school beds, and get their delivery to your home from there.
So, if you do happen to end up with a stiff back, experience sweating, or have any other first hand complaints or bad experiences – Puffy will come and take back the mattress. Even if you bought it through a referral source like this one or sleepopolis (love those guys).
Compare Puffy vs Other Brands
We've taken the time to compare the pros and cons of many different mattresses as well, and you can learn more about how The Puffy Mattress measures up to others in the industry by taking a look at these pages:
– Puffy Lux Mattress vs versus Ecosa – a comparison of Ecosa Mattress and Puffy
– Puffy vs Casper – compared with Casper with the Puffy Luxe and Royal
– Puffy vs. Purple – How the Billion Dollar Purple Mattress compares with Puffy
– Saatva vs. Puffy – Read how the two compare with each other
– Puffy vs. Nectar – Can you get a king size or just queen?
In the future, we hope to break down other bedding products like Rumpl, Layla, Ghostbed, Lull, Dreamcloud, Leaf, Loom, Bear, Avocado, Dream sleep, Sleep Number, and other hybrid mattresses – as well as pillows, even more spring mattresses, and sheets.
How Heavy is the Puffy Mattress?
Twin: 45 lbs.
Full: 58 lbs.
Queen: 69 lbs.
King: 87 lbs.
Obviously these vary based on the model you purchase.
What are the measurements (dimensions) of Puffy Mattress?
Twin XL: 39″x80″ (Can be used as a split)
Full: 54″x75″
Queen: 60″x80″
King: 76″x80″
How thick the mattress is depends on Base, Lux, or Royal models. However, you'll find the regardless of the model you choose – it will be soft and go fine with just about any headboard. Also, of course the prices do vary, but financing is always available.
Conclusion
Most Comfortable Mattress
Puffy has worked hard to earn the title of Most Comfortable Mattress. The make a high-quality product out of environmentally friendly materials. Comfort, cooling, and motion isolation are all excellent, and their warranty is unbeatable. The design and firmness level make this a good mattress and worth the price for a large majority of people. Overall, Puffy is a great value for the money. Not to mention, you buy it online and they ship it right to your house. Consumer Reports (https://www.consumerreports.org/products/mattresses-28948/mattress-28705/puffy-the-puffy-394662/) and the BBB (https://www.bbb.org/us/ca/north-hollywood/profile/online-retailer/puffy-1216-715025) even feel good about the rating of the company. Even though you'll find some negative ratings at BBB - people don't tend to go to BBB when they have a complaint - not a compliment.
Trial Period and Warranty
9.8
PROS
Extremely comfortable mattress
Great value for the money
Limited lifetime warranty
Puffy donates to children's shelters
CONS
Not very strong edge support
Puffy only offers one firmness option
Puffy Review & Educational Videos
There are a ton of YouTube videos that review puffy as well – even an Ellen video!. We have included some of our favorites below:
Quick side note: it's quite common for people to misspell "mattress" as "matress"… so we'll include that here just in case. 🙂
To see more top rated mattresses, check out our Top Ten List