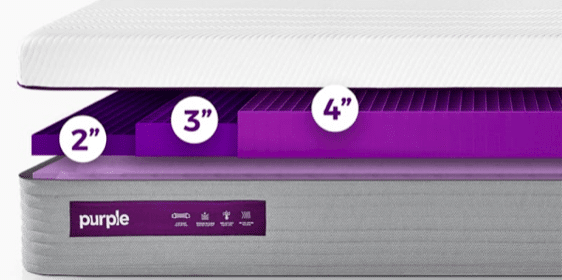 A quick note: we review products independently, but we may receive affiliate commissions when purchases are made through the links on our site.
Getting a good night's sleep is arguably the top goal of anyone about to slip under the covers for some shuteye. The problem is not waking up the next morning rested and ready for the day because your mattress sleeps like a bag of metal coils.
Two brothers who know how you feel created The New Purple® Mattress with the purpose of changing the world of sleep for the better. Brothers Tony and Terry Pearce, both engineers, have produced comfort products for almost 30 years. Tony is an actual rocket scientist and he and Terry work together to develop next-level comfort products.
The Pearce brothers started their quest for comfort products in 1989 while they were fly fishing and decided they wanted to change the world. They began with sports equipment and wheelchairs made of carbon fiber before moving to wheelchair cushions and other medically needed soft support.
Purple Innovation
Next for the Pearce brothers was developing a strong, soft material used in mattresses for back support. This led to inventing The Original Purple Mattress for their company, Purple Innovation, Inc.
A true dynamic duo in comfort inventions, the Pearce brothers and their companies currently hold more than 100 patents in comfort technology.
Their latest gift to people deprived of rest, The New Purple Mattress, offers an accomplishment that helps people sleep well and live better through comfort technology. This cutting-edge mattress technology also upholds one of the Pearce brothers' top goals—sleep comfort that delivers as promised.
The New Purple® Mattress
If it's important to you to sleep better and get more rest, consider The New Purple® Mattress.
This is the latest version of mattress from the company that launched the "World's First No Pressure™ Mattress" with The Original Purple® Mattress.
The names may be a bit confusing at first, but it's all part of the mattress royalty from Purple Innovation, Inc. (Purple, for short).
The New Purple Mattress follows the original by improving on the durable, Hyper-Elastic Polymer® material from Purple. Basically, it's comfy and stretchy material.
The new mattress combines the polymer with responsive support coils, each sitting in an individual fabric casing. This advanced technology and design isolates motion and provides full-body support.
For those of us wanting a good night's sleep, this latest mattress from Purple is like resting on the cool side of the pillow all night long. Your body has the full support of the mattress, so you can enjoy a more blissful sleep, oblivious to the technology enhancing your comfort.
Top Qualities of The New Purple Mattress
Every mattress company offers "the best" product and Purple took its market-disrupting original version and added more durability and comfort benefits.
Cuddly Coils
The Purple Smart Comfort Grid™, each of those 7.5-inch support coils sitting in an in individual fabric casing, are designed to reduce pressure across the body as you sleep. I know this helps me because I have "stress" points where I wake up and that part of my body is sore. Purple's mattress feels as if you're being cuddled by the core.
Cool by Design
This open grid design stimulates air flow while also dissipating your body heat. My significant other may sleep cold, but I'm hot all night, so maintaining a cool mattress temperature is a plus. As Purple says, "you don't want to sweat the bed."
My Space
This comfort grid technology isolates motion, so any other body in bed—partner, child, or pet—doesn't become a moving bed sore when they're wiggling or kicking in their dreams. Purple demonstrates this best in its video commercial where it drops a fellow from above the bed and the raw eggs attached to him don't break.
Comfort Choice
A big choice for any new mattress is the firmness level. I'm a little like Goldilocks because I can't handle a mattress that's too fluffy or one that feels too stiff. The New Purple Mattress lets you choose the thickness of the comfort grid for customized support.
Purple designates the variations in feel of this mattress as firm, medium, or soft (it refers to these respectively as .2-firm, .3-medium, .4-soft, or 2 inches, 3 inches, 4 inches of grid thickness).
Durable Layers
The New Purple Mattress contains three main elements encased in a breathable, stretchy cover made of mostly polyester.
The top element, or layer, is the Smart Comfort Grid (thickness is based on your firmness choice). This layer rests atop the second layer, which is 1-inch thick polyurethane foam. Under the middle layer is the third element--the bottom layer containing fabric-encased spring coils.
Purple doesn't chemically treat the mattress for fire retardant requirements, but instead uses a non-toxic knit barrier. Cleaning the mattress is as simple as using mild detergent to spot clean as needed.
Find Your Purple Solution
Since landing heavy in the mattress world in 2016 with its original product, Purple has developed a loyal following among the sleep-challenged. Here's what to consider when purchasing The New Purple Mattress:
Ratings for The New Purple Mattress
Foam mattress configurations always seem to draw debate. Where you stand in the debate really will boil down to comfort preference.
The New Purple Mattress has ardent supporters touting its benefits and features. Many will tell you it takes a few weeks for your body to adjust to the mattress and for its comfort to be fully realized. Raving fans (Purple boasts more than 25,000 5-star customer reviews) are clear that the mattress delivers comfort right out of the box.
The New Purple Mattress did pass with approval on independent tests of the "egg drop" claims in the video (above).
Average ratings for this mattress hover between 3.5 and 4.0 on a 5.0 scale. Lower ratings are mostly due to affordability and users who really shouldn't consider foam to start. Users who enjoy this comfort style boost the ratings considerably across feature categories.
Why Invest in The New Purple Mattress
The New Purple Mattress comes with advanced comfort features and a price range of $1,300 to $1,900, Twin XL to King size, respectively. By comparison, the original version, which you can still buy online, ranges in price from $700 to $1,300 for the same sizes.
The New Purple Mattress competed in the marketplace in the lower part of the mid-price range.
Spring coil mattresses or even certain foam mattresses can be found for a lower price.
Comparing on price alone, plush king-size pillow top mattresses can cost well beyond $5,000.
My most important feature is comfort. A mattress is expected to last for years, so I'm willing to push my budget to get the comfort I want. It's well worth the investment to ensure comfortable sleep for the next few years of my life.
The Trick to Buying Mattresses Online
The difficulty for me in any product purchase available only online (Purple has very limited retail store options) is "trying before buying." Plopping on a mattress for a short test drive is a selling point.
If that's the case for you, try several similar foam mattresses locally to test the feel. If it's a comfortable fit, jump back online for more on The New Purple Mattress.
I've found that a long-standing company such as Purple Innovation, Inc., that combines decades of science, engineering, and practical applications is worth a test. Remember, The New Purple Mattress comes with a 100-night trial and a 10-year limited warranty.
Mattress use guidelines encourage changing mattresses after no more than eight years.
Purple extends its warranty for two years beyond the guidelines, which suggests this mattress is comfort built to deliver as promised and last beyond expectations.