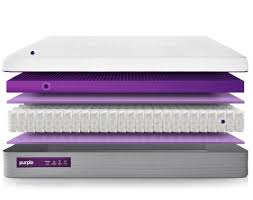 A quick note: we review products independently, but we may receive affiliate commissions when purchases are made through the links on our site.
Purple took the mattress world by storm when they burst onto the scene in 2015 as one of the original mattress-in-a-box providers. While there's something to be said for being one of the first companies in the business, there's much more to be said for the quality of their mattresses, which we'll expound upon below in our Purple mattress review.
For just shy of $1000 for the queen-sized model, Purple will deliver you their impressive original Purple mattress to your door. It includes a 10-year warranty and a 100-night sleep trial, so you can decide if it's the best mattress for you. Shipping is free, and so are returns, should you decide the original Purple mattress isn't for you.
Where to Buy the Purple Mattress?
One of the caveats of the mattress-in-a-box phenomenon is that you have to buy your new mattress sight unseen, instead relying on some spiffy marketing and product reviews to decide if you were willing to take the plunge and purchase one for yourself.
Fortunately, that issue is quickly being resolved. Compared to all the competition, finding a Purple mattress to try out in person is easy. Purple mattresses are available at Bed, Bath & Beyond stores, Macy's and Mattress Firm stores throughout the country. Use the locator on their website to find the closest retailer to you.
What is the Original Purple Mattress Made Of?
That brings us to our next point, what exactly makes a Purple mattress a Purple mattress? Let's take a closer look under the hood and learn more about the layers and components that make up this mattress in our Purple mattress review.
Cover
The cover of the mattress is soft and luxurious, and while it's a bit more minimalistic than the tufted and embroidered tops we've seen on the market for the last few decades, it still looks expensive and high quality.
Made from a blend of polyester, viscose, and Lycra, the cover features a non-slip bottom section made of polyester. While many newer mattress brands feature removable covers, which are easy to remove and wash, the Purple mattress cover isn't removable. If necessary, the cover can be spot cleaned with a light upholstery cleaner.
Top Layer
The top layer of the Purple mattress is what sets it apart from much of the competition. This layer is also the culmination of all of the experience and innovation that the founders of the company bring to the table.
This layer is 2" thick, and it's comprised of Hyper-Elastic Polymer with the trademark Smart Comfort Grid pattern. It's then coated in a polyethylene copolymer.
The grid pattern of this layer allows the mattress to collapse and shift as you move, cradling your pressure points the way a firm mattress would, but without the cold, rock-hard feeling that they're often known for.
Since this layer features a grid pattern, air flows through the mattress much more freely than with solid foam mattresses. This feature makes the Purple mattress ideal for anyone who sleeps hot.
Plus, this material transfers virtually no motion, so it's ideal for couples, particularly if one of you is a restless sleeper. Another characteristic of the patented Purple mattress top layer is that it's significantly more bouncy than traditional memory foam mattresses.
The unique grid construction of the top layer makes this mattress significantly more responsive than traditional memory foam mattresses. It provides a level of bounce that most mattress brands don't, with the exception of innerspring beds.
Middle Layer
The middle layer of the Purple mattress is comprised of 3 ½" of 1.8lbs density polyurethane comfort foam. Like the top layer, this layer is made in America of food-grade foam, and it's hypoallergenic and resistant to dust mites.
Bottom Layer
The bottom layer of the mattress is much like the middle layer, although it's even denser to provide the most support possible. This layer is 4" thick, and it's made of 2lbs density polyurethane foam. It's also made in America from food-grade foam and is hypoallergenic and dust mite resistant.
Firmness
On a scale of 1-10 with one being the least firm and ten being the most firm, the original Purple mattress sits at about a 6.5. Keep in mind that depending on your size and weight, the mattress may feel more or less firm to you.
For example, smaller or lightweight people may find this mattress to be a bit too firm for them, whereas very large people may even find the mattress to be too soft. For the average person, the Purple mattress falls somewhere around "slightly firm," but your mileage will vary.
The best way to decide if the Purple mattress is a good fit for you is to try one out. Most people who own a Purple mattress find it to be perfect - slightly firm, but soft enough to give them the feeling that they're perfectly cradled by their bed as they sleep.
Like many other memory foam mattresses, this mattress doesn't offer tremendous edge support. While it's mildly supportive, those who sleep on the very edge of the bed may feel as if they're falling off of the bed.
Motion Isolation
One area where the Purple mattress shines brightest is its motion isolation. The Comfort Grid top layer works incredibly well to isolate all motion, which makes this a perfect bed for couples and restless sleepers. It's really impressive how little motion transfers through this mattress. If a war were going on next to you as you slept, you'd be hard pressed to feel it.
Cooling
The other feature of the Purple mattress that stands out the most is it's cooling properties. Many memory foam mattresses tend to sleep hot, as little to no air can flow through the dense foam of the mattress.
Thanks to Purple's grid pattern, this isn't a concern with this mattress. Air can flow freely through the top layer, which makes this one of the best mattresses for people who sleep hot.
The Original Purple Mattress Warranty and Trial Period
Purple offers a generous trial period and warranty with the purchase of their mattresses. Once your new Purple mattress arrives, you have 100 nights to decide if the mattress is right for you. While many competitors offer a similarly generous trial period, many charge fees for pick up or restocking, which means you're on the hook for hundreds of dollars if you decide to return.
Purple also offers a ten-year warranty on all their mattresses. While this is shorter than many other brands warranties, it's still quite substantial, and you'll have peace of mind knowing you're covered for an entire decade should something go wrong with your mattress.
Price & Shipping
The cost of a Purple mattress varies depending on the size you choose. Here's what you can expect to pay for the original Purple mattress.
| | |
| --- | --- |
| Twin | $649 |
| Twin XL | $699 |
| Full | $899 |
| Queen | $999 |
| King | $1299 |
| California King | $1299 |
Regardless of which mattress you choose, it will ship to your door for free!
Who is Purple?
Founded in Utah in 2015, the Purple mattress company was started by two brothers, Terry and Tony Pearce. The Pearce brothers got their start in business developing carbon fiber sporting goods and wheelchairs, and they amassed an impressive array of patents for cushioning materials and hyper-elastic polymers, which coincidentally lend themselves very well to the mattress business.
In 2013, the revolutionary machine known as the Mattress Max was invented, which allowed the Pearce brothers to apply their vast knowledge of cushioning and support materials on a broader scale. They applied their technology to mattresses, and the rest is history.
Thanks to the decades of experience the Pearce brothers amassed in working with high-tech foams and polymers, they brought a unique perspective to the mattress industry. Their mattress quickly became one of the most popular new mattresses in America, and it's also one of the most scientifically advanced.
The Purple company is also committed to managing their impact on the earth. All of their packaging is recyclable, and when your mattress has reached the end of its life, it can be melted down and turned into a new product with the recycled foam.
In addition to their best-selling original model, the company recently released the New Purple Mattress, which you may also want to consider. But, given the incredible quality and popularity of the original mattress, the original is still available, and it's appeal doesn't appear to be waning.
Who is the Original Purple Mattress Best For?
The Purple mattress is very middle of the road when it comes to firmness, and its proprietary grid technology provides more than ample support and pressure point relief, so it's ideal for most customers.
The vast majority of people find that a Purple mattress is one of the most comfortable mattresses they've ever laid on.
This mattress is uniquely well suited to anyone who deals with back, shoulder, or neck pain, especially if that pain is a result of sleeping poorly. Anyone who sleeps hot is also sure to love the Purple mattress since it's gridded foam top layer promotes airflow and helps you maintain a comfortable temperature throughout the night.
Since it transfers virtually no motion, it's also ideal for couples and restless sleepers. Anyone who deals with allergies is also sure to love this mattress since it's entirely hypoallergenic. All of the foam used in Purple mattresses is Certi-PUR US certified, so not only is it suitable for allergy sufferers, but it's also better for the environment.
Who May Want to Avoid This Mattress?
While most people are likely to find that the Original Purple Mattress is a dream come true as far as their sleep is concerned, there are a few types of people who may not enjoy this mattress.
Those who sleep on the very edge of the mattress may find that they need more edge support than what this mattress provides. This mattress is also a bit thinner than other memory foam mattresses, so if you're an especially big person, you may feel that you're bottoming out when you sleep on this mattress.
Also, anyone who really loves the feel of an innerspring mattress probably won't like this mattress as much. Not only does it feel entirely different from an innerspring mattress, but it also feels a bit different than any other memory foam bed. Sleeping on the Purple mattress is a unique experience, so if you're attached to the way your old bed feels, you may not like it.
If the Original Purple Mattress isn't the best for you, then what mattress should you buy? Take a look at our comparison between the New Purple Mattress and the Puffy Lux Mattress for another option.
How to Set Up Your Original Purple Mattress
Our Original Purple Mattress review wouldn't be complete without some setup instructions. Setting up your Purple mattress is very easy. But, considering how heavy this mattress is thanks to its solid high-density foam construction, having a partner will make your job way more manageable.
Again, since the mattress is so heavy, you may find that it's easiest to set your new mattress up right on top of your box spring or bed frame, so you don't have to worry about moving it once it's unpacked.
All you'll need to do is carefully cut through the plastic wrapping of the mattress, and watch in amazement as it grows from the relatively tiny package it came in to a much larger bed.
You may notice a woodsy odor coming from your mattress once it's unwrapped, but this dissipates quite quickly, and you probably won't notice it at all.
Some people prefer to leave their mattress to continue to expand for 24-48 hours, but who has that kind of time? Your new mattress should be ready to sleep on right out of the package, although you may notice it's a bit softer on the first night than it is on subsequent nights.