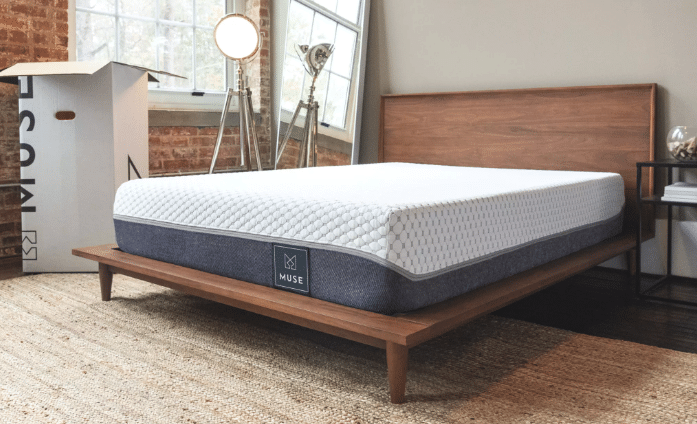 A quick note: we review products independently, but we may receive affiliate commissions when purchases are made through the links on our site.
If you're in the market for a new memory foam mattress and are considering Muse, you probably have some questions. To help you learn more about everything this bed has to offer, from features to firmness to edge support and more, we've put together this Muse mattress review that will cover it all. Let's jump right in.
Muse Mattress: At a Glance
Muse understands that when it comes to getting a good night's sleep, mattresses are not one-size-fits-all. By allowing customers to choose the firmness option they like, an unusual practice when it comes to memory foam beds, they have created a mattress that helps even more people to rest in peace.
When you purchase a Muse bed, you receive a 12-inch foam mattress constructed from the highest quality materials, all of which are designed and produced in house. In-house production keeps operating costs down, which is what lets Muse offer customers top-notch mattresses at an excellent price point.
Part of what has helped this company rise to popularity is its proprietary Cool Wire Fabric technology, which wicks away moisture and keeps sleepers from overheating. Memory foam is notorious for being overly hot, but Muse keeps sweat at bay with its super-cool cover—one of its major selling points.
What's Inside the Muse Mattress?
As mentioned, this bed is made entirely of foam layers, and we would consider the Muse mattress a traditional choice in this category. You'll note that the mattress hugs your body when lying down, the effect foam fans love in this type of bed, but you won't feel like the bed is sucking you into it.
Before we talk about the Muse's construction, we did want to mention that there are many differences when it comes to foam vs. spring mattresses. Foam mattresses are not for everybody, so if you're thinking about making the switch, we recommend doing ample research before committing to a bed.
If you are among the tried and true memory foam fans, you'll enjoy the three layers of foam that provide maximum support for every inch of your body. Let's take a look at the design of the Muse mattress, starting with the top layer.
Top Layer
Two inches of cooling gel-infused memory foam comprise the top layer.
Middle Layer
The slightly denser middle layer provides another two inches of primary support, made from responsive comfort foam. This layer will vary depending on the firmness option you choose.
Bottom Layer
Finally, we find eight inches of high-density foam that act as the mattress' foundation. While you can't see it, this is the layer that provides support, firmness, and durability.
Cover
Made with Muse's own Cool Wire Fabric technology, the cover is the icing on twelve inches of mattress goodness. The fabric is made from polyester and polyethylene knitted yarns, which work together to create a cover that is cool to the touch and moisture wicking.
Firmness
What sets the Muse mattress apart from other online mattress retailers is that sleepers can choose the firmness they prefer. There are three different comfort levels—soft, medium, and firm—that vary in the second layer, so you can find the bed that's most comfortable for you.
On a firmness scale of 1 to 10, the medium firmness mattress would fall right around a 5/6, but if you prefer more or less firmness, those options are available.
Regardless of the firmness level you like, you get the traditional memory foam experience of slow bounce back time, but at the same time you won't feel like the bed is trapping you—a critical feature that facilitates rolling over or getting out of bed.
Cooling
We've touched on this a bit already, but the cooling technology is what makes this bed stand head and shoulders above other comparable memory foam beds. All-foam mattresses have a well-earned reputation for being hot, but Muse has done everything in their power to make sure this bed sleeps cool.
They did so by implementing the aforementioned Cool Wire Technology, which has unique temperature absorbing capabilities. The bed works to regulate your temperature so you can get a good night's rest. It's easy to feel this technology at work—just put your hand on the cover, which is cool to the touch.
If hot nights are a concern, the Muse mattress should be a top contender in your mattress search.
Motion Transfer
Motion transfer is an essential consideration when purchasing a mattress, mostly for people who sleep with a partner. You don't want to feel your spouse's every toss and turn, so a mattress's ability to contain motion is key.
The Muse mattress does an above average job in this area, as do most memory foam beds. This model virtually eliminates motion transfer, which is great news for light sleepers with restless partners.
Edge Support
Edge support refers to how well a bed supports your weight when sitting or lying close to the edge. If you'll be sharing your memory foam bed with a partner who typically encroaches on your space, edge support is an essential consideration.
Muse delivers when it comes to avoiding this problem. Most foam mattresses provide only adequate or even subpar edge support, but the high-density foams in the Muse bed give it even support along the whole mattress, even if you're right on the edge.
If you spend most of your nights locked in a territorial battle with your partner, the Muse mattress is an excellent choice because your weight is well supported, and you won't be scared that you'll fall off.
Smell
Smell, or off-gassing, is a common concern in boxed foam mattresses. Many customers report noticing an odor during the first few days of life with their mattress, but despite being all foam, the Muse bed gives off very minimal smell upon arrival.
While the off-gassing with this model is generally insignificant, you can wait up to a full day to use the mattress if it bothers you. Letting the bed sit for a bit allows all the smells dissipate.
What Type of Sleepers can Benefit from the Muse Mattress?
The great thing about the Muse mattress is that pretty much any kind of sleeper will be comfortable on this bed.
Back sleepers experience pressure relief in their low back when sleeping on this bed, as well as excellent support throughout the body.
Stomach sleepers have to take care to ensure their spine is neutral and their bodies don't sink into the bed too much, but this isn't a problem with the Muse mattress. Most average size stomach sleepers receive adequate support with the medium firmness bed, though if you're heavier, it might be a good idea to go for the firm.
Side sleepers, too, find what they need: excellent hip and shoulder support that relieves pressure.
We're also pleased to report that heavy sleepers feel right at home on this bed, thanks to its thick support layer that prevents heavier individuals from bottoming out. Memory foam often isn't always the best option for these people, so it's great to see that Muse works for higher weight profiles, too.
Muse Mattress Trial Period and Return Policy
To ensure you and your mattress live a happy life together, Muse offers an online sleep personality quiz to help determine which of their customizable firmness options will suit you best. Muse mattresses include a trial period and return policy standard amongst online mattress retailers.
Trial Period
Customers have 120 nights to try out the Muse mattress in the comfort of their own home.
Return Policy
If at any time during the four-month trial period you decide the Muse mattress is not for you, you can return it for a full refund. Muse will coordinate with you to either donate the bed to charity or arrange for pickup.
Price
The Muse mattress is an exceptionally reasonably priced mattress, and you can often find coupons that make it even more accessible.
Twin: $650
Twin XL: $650
Full: $850
Queen: $950
King: $1100
California King: $1100
Where Can You Buy a Muse Mattress?
Muse is available for purchase online on Muse's website. We've made it easy for you to access via the button below.
Is the Muse Mattress Worth It?
Now it's time for the most critical consideration of this Muse mattress review: is it worth the money?
The answer is a resounding yes.
If you love all-foam beds, the Muse mattress is a fantastic value for money choice. The Muse team has created a well-thought-out bed that meets a range of individual needs. From the proprietary cooling technology to the abundance of firmness options, the Muse mattress is a traditional memory foam bed with excellent comfort features.
For more information on other top rated mattresses, check out our best mattresses review.