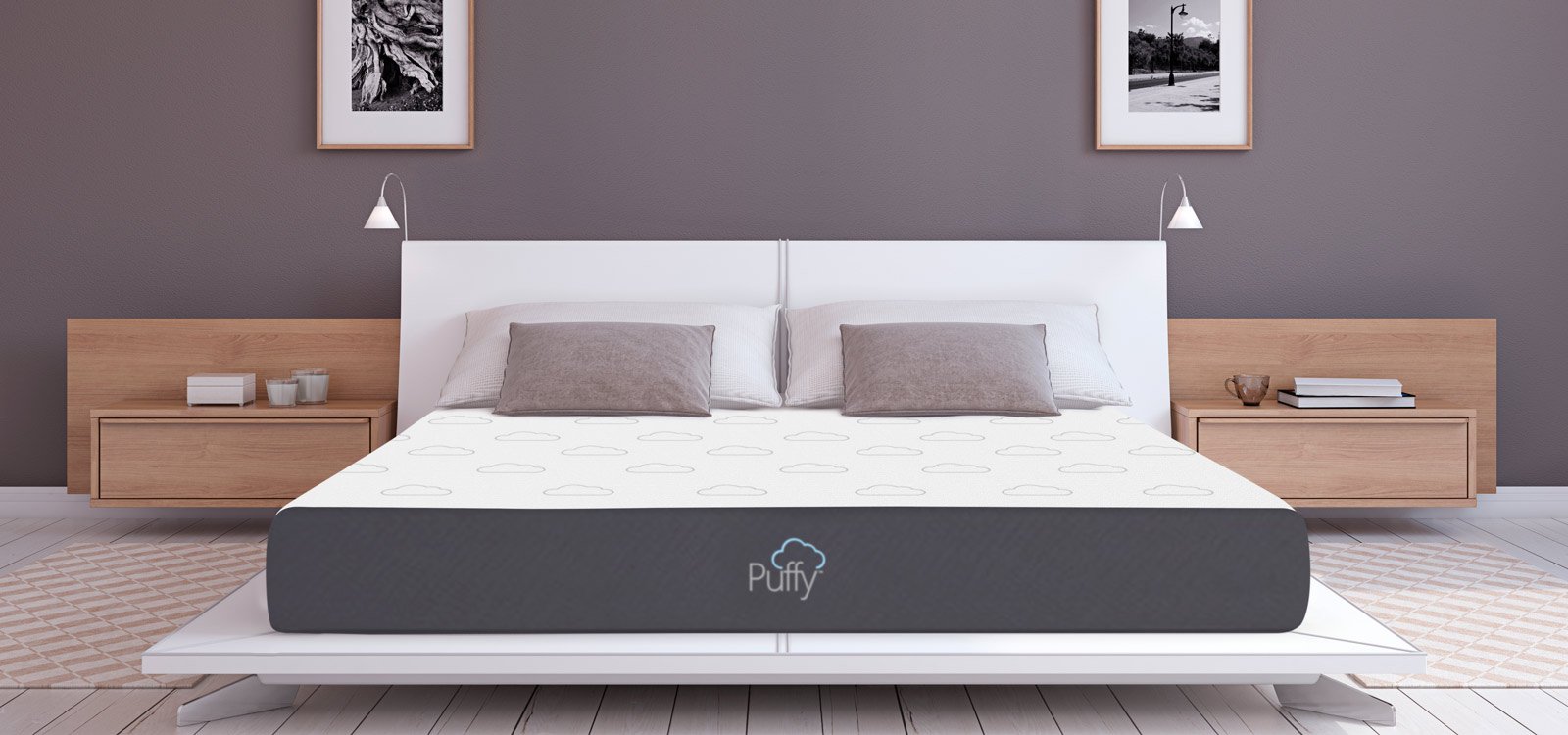 A quick note: we review products independently, but we may receive affiliate commissions when purchases are made through the links on our site.
You've done your homework and have now shortlisted these two mattresses – the Puffy Mattress and Casper Mattress. This comparative review will help you find the perfect fit and a great night's sleep.
The Puffy and Casper original mattresses have been widely reviewed, with nearly all outstanding ratings. Take a look below to learn more about each mattress and who they best benefit.
Comparison Chart
Puffy and Casper are two of the most popular online mattress retailers. They have both been widely reviewed with nearly all outstanding ratings. We've created a comparison of the two mattresses to help you find the perfect fit for you.
If you're looking for that classic memory foam feel, the Puffy Mattress may be what you're looking for. With 4 inches of gel memory foam goodness, this medium firm mattress provides less motion transfer, ideal for those whose partners tend to toss and turn in their sleep.
Casper Mattress Review
The Casper Original is a thick 10 inches of heaven. Four layers of different types of foam offer a balanced, meticulously constructed mattress for a healthy night's sleep for your body.
Mattress Startup Comparison
Online mattress retailers like Puffy and Casper are relatively new, but these companies have earned strong reputations for providing affordable, high-quality mattresses delivered directly to your door.
Puffy as a Company
Founded in 2016, Puffy is a California-based company offering bedroom solutions, such as mattresses and bedding, to help support better sleep health. With a direct-to-consumer bed-in-a-box model, Puffy offers exceptional rest and comfort with mattresses designed to make sleepers feel as though they are "sleeping on a cloud."
Puffy also has a donation program where buyers can purchase mattresses specifically to donate to children in need. In the past, Puffy has also partnered with a number of nonprofits and engaged with their community in other ways.
Casper as a Company
Casper Sleep, often shortened to Casper, was founded in 2014. Based in New York, Casper is dedicated to providing simple, effective sleep solutions – and it has done so for more than 1 million sleepers to date.
Like Puffy, Casper has often partnered with nonprofits to donate mattresses (more than 70,000 so far), and they offer in-store recycling for products such as bedding and pillows to improve their environmental impact.
Despite forming around the same time as Puffy, Casper does not adhere to the same direct-to-consumer model, though they still utilize the revolutionary bed-in-a-box practice. In addition to delivering boxed mattresses to consumers' doors, Casper also has brick-and-mortar Sleep Shops located coast to coast for convenience.
Mattress Materials and Construction Comparison
The Puffy mattress incorporates deep sleep technology. It consists of two layers. The comfort layer is adaptive, giving you cuddling support during sleep with plush foam. The entire structure uses breathable foam and incorporates heat dissipating mechanisms. The core foam layer contributes to the strength of the mattress, which alleviates that sinking feeling while you rest.
The Casper Mattress consists of a four-layered structure. The first layer is open-cell foam, which is breathable and matches the contour of your body. The second layer is made of memory foam, ideal for relieving pressure and discomfort. The third layer is of zoned transition foam that functions according to the alignment of your body and its comfort. The layer at the base consists of support foam. Together, all layers create durability and a long life for the Casper mattress.
Mattress Sizes
The original mattresses from Puffy and Casper are available in the following sizes:
Twin
Twin XL
Full
Queen
King
California King
While they both have roughly the same dimensions, Puffy Originals have a height of 10 inches while Casper Originals are 11 inches high.
Puffy vs. Casper Mattress Trial Period
101 nights—that's how long the Puffy Mattress's trial period lasts. Puffy promises a full refund if your results aren't satisfactory. With a lifetime warranty, maintenance isn't an issue. And to top it all off, shipping and return shipment for Puffy deliveries are both free—a major plus.
The Casper Mattress features a trial period of 100 nights, one night less than Puffy. Another bummer is that the Casper only comes with a 10-year limited warranty.
The best part? Shipping and return pickup are free for the Puffy Mattress and the Casper Mattress!
Puffy Mattress vs. Casper: Which is Cooler?
The Casper Mattress is designed with cool memory foam. Its open cell design helps in ventilating the mattress throughout the night.
However, Puffy seems to be the better choice in terms of its coolness, as the comfort cloud is marvelous at dissipating heat. Infused with a cooling gel, there is no doubt the Puffy Mattress outranks the Casper Mattress in temperature control.
How Does the Casper Mattress vs Puffy Measure Up? Key Features and Qualities
When it comes to choosing the best mattress for you, it is important to consider a number of common features and qualities to ensure you'll be comfortable. Here are some of the many features to keep in mind.
Sleeping Positions
Both the mattresses offer support for three different types of sleepers; on the back, on the stomach, and on the side.
The zoned construction of the Casper Original takes the lead for side-sleepers. It matches the spinal alignment and hip contour to facilitate a sink-free sleep.
While the Puffy Mattress does support a side-sleeping posture, its memory foam is better suited for back and stomach sleepers. Combo sleepers may need to figure out if they spend more time on their sides, backs, or stomachs before committing to one of these mattresses to ensure maximum comfort and support.
If you're looking to get relief from back pain, see the mattresses we recommend for a restful night's sleep.
Body Weight
Your body weight can influence how comfortably you will sleep on different mattresses. Heavier sleepers (who weigh more than 250 pounds), for example, may need more support (and less contouring) than an all-foam bed might provide. A light sleeper, however, will likely find mattresses from Casper and Puffy to be perfectly comfortable. Both mattresses have a medium firmness level, so heavier sleepers may find this support to be insufficient.
Motion Transfer
The mix of thicker top layer of memory foam and the medium firmness of the Puffy Mattress makes it ideal for reducing or preventing motion transfer when the bed is shared.
Motion isolation is especially important when you share a bed. The movement of your sleeping partner won't cause any disturbance with the right amount of motion isolation. Casper is also good at handling motion transfer, but not as satisfactory if the bed is shared.
Mattress Firmness and Feel
The Puffy brand mattress provides medium firmness (around a 5 out of 10 on the firmness scale). However, the body weight of the user has a major impact on the firmness of the mattress. The pressure-relieving mechanism works according to the contour of your back when you lie facing front.
Puffy is an ideal choice if you like to sleep on your back or stomach. This mattress inhibits the sinking problem quite well. The material, however, isn't as suitable if you're a side sleeper. That firmness may inhibit the comfort needed for side sleepers to get a solid night's rest. (If you're looking for the best mattress for side sleepers, take a look at our recommendations here).
The Casper Original is a comparatively softer mattress. The weight from the sleeper's back normally gets distributed evenly. This prevents that sinking feeling, giving you the ability to enjoy the comfort of being on top of the mattress. The mattress contours well, so if you're a side-sleeper, this may be a wise choice for you. The foam firms up in the lower area to conform to hip pressure.
Although this mattress is good for people who sleep on their sides, people who sleep on their backs or stomachs can benefit from it too. The contour relaxes the chest area and helps you sleep soundly, offering sufficient pressure relief as well as motion isolation.
Pain and Pressure Relief
Both mattresses offer a high level of pain and pressure relief, making them both great options for sleepers looking for comfort and support. Sufficient pressure relief typically depends on the amount of cushioning and contouring offered by a mattress, and both of these offer enough support to provide relief.
Mattress Edge Support
The Casper Original has remarkable edge support compared to Puffy. While the Casper Mattress is less firm, the soft layout is also strong. The design is made in zones that distribute the stresses and make sure the mattress doesn't collapse while sitting on the edge.
This feature also comes in handy when you're sleeping at the side of the bed. Puffy, however, doesn't support edge sleeping as well. Therefore, Puffy is not recommended if you have a habit of sleeping at the side of the bed.
Temperature Regulation
Hot sleepers may not find the original mattresses of either brand to be exceptionally comfortable, as memory foam mattresses are known to retain body heat. However, both Puffy and Casper have designed their mattresses to offer some temperature regulation and provide a cooler sleep experience than other all-foam mattresses might have to offer.
How Much Will You Pay for These Mattresses?
Puffy and Casper Original are both good quality mattresses, but they do come at different price points.
Both mattresses come with a 100-night sleep trial (or, in Puffy's case, 101 days), meaning you can test out the mattress to see if it's the right fit for you before committing to it. They both offer competitive warranties, with Casper's 10-year warranty and Puffy's lifetime warranty.
Puffy Original Cost
You can purchase a Puffy Original at full price for:
Casper Original Cost
You can purchase a Casper Original at full price for:
Puffy Mattress Vs Casper Mattress FAQs
Where is Puffy mattress made?
The Puffy Mattress is made in the United States.
Does Puffy mattress have fiberglass?
No, the Puffy mattress does not contain any fiberglass.
How much does a Casper mattress cost?
The Casper Original is available for $895 for a Twin, $1295 for a Queen, and $1695 for a King or California King.
Will Casper remove old mattress?
Casper will remove your old mattress for an additional fee. Puffy does not offer mattress removal services.
Can you flip Casper mattress?
As with any other all-foam bed, you should not flip your Casper Original. However, you should rotate your mattress periodically to ensure even weight distribution that prevents lumps, sagging, and hammocking.
Do I need a box spring for a Puffy mattress?
You should not use a box spring with a mattress from Puffy. Because box springs lack a solid flat surface, they can cause lumps and uneven wear over time on your mattress. You will need a foundation, however, such as the Puffy Foundation, to support your mattress and provide you with a comfortable sleep.
Get up to 15% off a Puffy Foundation; Click on Bed Frames when you follow this link! - https://bedtester.com/puffymattress
Is the Casper Mattress good for people with back problems?
While the Casper Original is good for people with back problems, it may not be as good as the Puffy Mattress. The Puffy Mattress has a medium firmness and is designed to relieve pressure points and provide comfort.
Puffy or Casper: Our Verdict
Overall, it's safe to say that both the mattresses are good in terms of their life and features. Despite that, the choice of the mattress still depends on you. Whether you're seeking softer sleep or cooling sleep is a personal choice.
The recommendation is that you consider your sleep patterns and tendencies while shopping for your next mattress online. Choose the features that are foremost in your mind for a good night's sleep and base your selection on those.