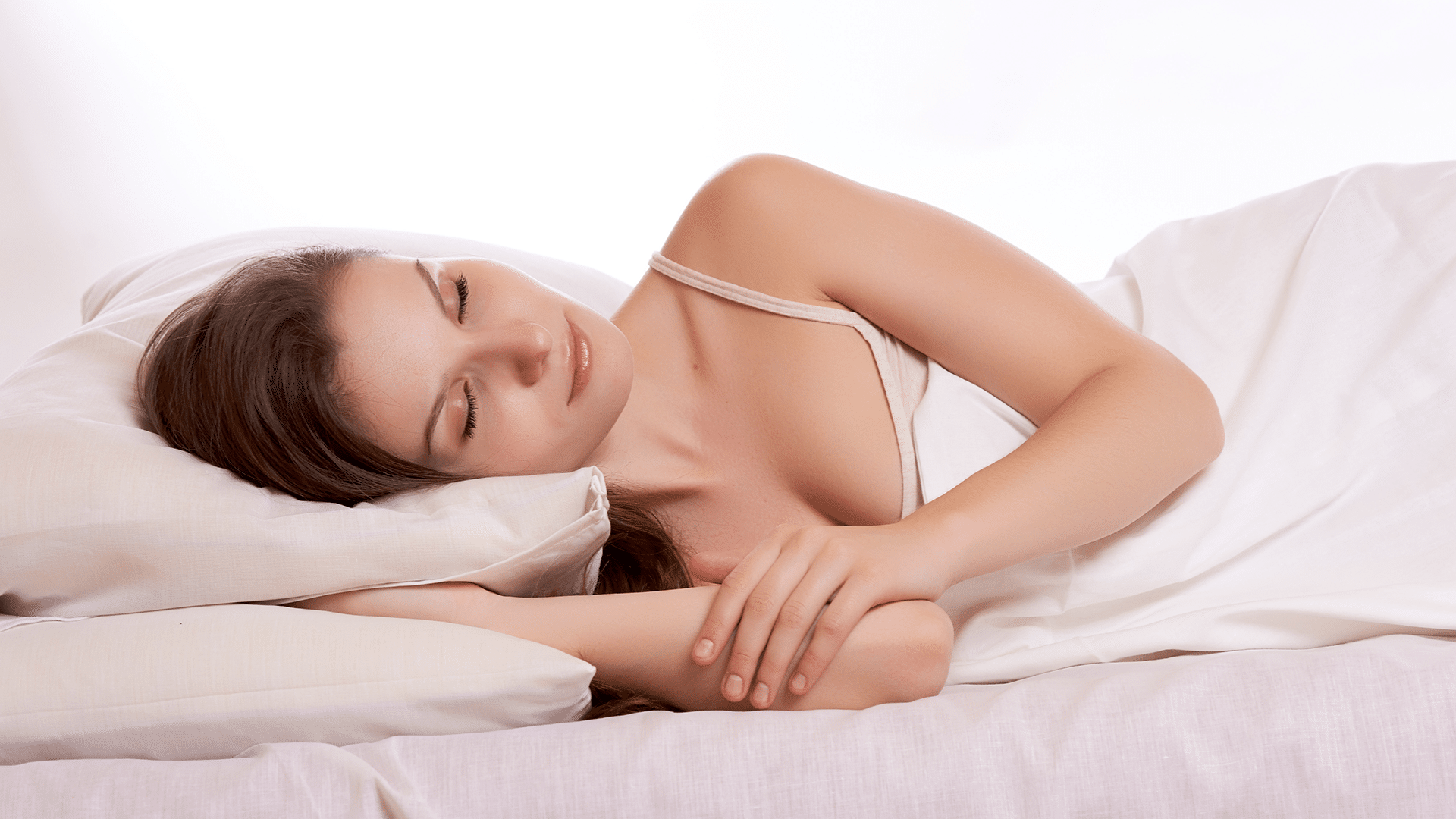 A quick note: we review products independently, but we may receive affiliate commissions when purchases are made through the links on our site.
Wouldn't it be great if you could get the recommended eight hours of sleep every night? But this isn't always possible. Many of us toss and turn thanks to poor mattress quality. Even though side sleeping is the most common position, not all side sleepers don't get the best night's sleep.
Side sleeping is healthier for many reasons. For example, aligning the shoulder with the spine leads to little or no pressure on the neck and the lower back. It also improves airway circulation, so people with sleep apnea may sleep better if they sleep on their sides.
We would suggest that side sleepers should get soft mattresses to make their sleeping position more comfortable. The mattress should be medium firmness for a softer feel, giving your spine the most support. Investing in a good mattress can greatly benefit your health, saving you from daunting doctor visits.
7 Best Mattress for Stomach Sleepers
With extensive research on various products and mattress reviews, this post aims to educate you on the best mattress suitable for you as a side sleeper. This will help you to get a good and durable mattress. That way, you will be able to enjoy your sleep more.
1. Layla Mattress
Layla mattress comes with option of flipping sides. Its very light and easy to flip which makes it perfect for this routine. The mattress has two different side that can address the firm option of many side sleepers at once. There is the option of "Medium Soft" on one side and the other side is "Firm". The "Medium Soft" side is, no the scale of 1 – 10, 4. And the firm side is 7 on the scale of 1 – 10. This double feature is perfect for side sleepers whose preference change from one night to other.
The mattress comes with life time warranty, and also has a 120-day trial period. It's very important to have a longer trial period, because then you're better able to determine if this is the right mattress for you.
The mattress is best for couples or people with kids. As it lessens movement to a significant extent. This way the person sleep next to you will not be disturb if there is a movement on the bed. This also helps with people who have light sleeper as partners.
2. Nectar Mattress
I am sure you will agree after reading all the reviews that Nectar Sleep is a good value, and quality mattress compared to the other players in the market. Nectar mattress gives you the same quality but in better price range.
It, smartly, utilizes double memory technique, one layer of gel memory foam onto another layer of memory foam. Despite that it doesn't have the warm hugging sensation many other foams do. which means you won't get the warm sleep that is usually linked with memory foams.
A high density polyfoam is set in the middle. This will make sure that the mattress will stand the test of time. Given the way Nectar foam is made, we bet that it would last up till 7 to 8 years.
Consequently, weighing out all the pros and cons we can conclude that Nectar is a good mattress all in all. Inexpensive yet perfect quality.
3. Loom & Leaf Mattress
This is by no means an average foam mattress. The Loom and Leaf mattress is nothing shy of a luxury foam. In fact, it's rated a bit higher than the Casper or the Layla. The mattress contains a memory foam. Moreover, it contours perfectly. This is, probably, the only foam that isn't compressed and shipped unlike others.
Composition of the mattress contains, cooling gel, complex memory foam and a layer of high-density polyfoam. These sound composition makes the mattress a very reliable one. Moreover, these compositions also make the mattress very support prone. In addition to that it also has the pressure relief factor too.
The mattress comes with two options regarding the firmness. Namely, a Relaxed Firm and Firm. Which sits very well with a lot of side sleepers. Furthermore, they also make the point of removing your old mattress before installing a new one.
Read our full review on the Loom and Leaf mattress here
.
4. Leesa Mattress
Rates 5 on the firmness scale, the multiple foam layers of the Leesa mattress offer widespread comfort. It has layers of LSA200 polyfoam as well as memory foam. Furthermore, it also lined with supportive layer at the base of the mattress which is constructed of high-density polyfoam.
The mattress has alleviated pressure points and very little sinking factor. With its average density foam, its expected life can be determined around 6 to 7 years at most. The mattress also comes with an expensive price tag. The mattress may suit you better if you have back pain and your average weight is under 230 lbs. The mattress comes between floating and sinking sensation. They also support charities.
5. DreamCloud Mattress
DreamCloud has as many as eight layers of luxury and support all in one mattress. The mattress has been intelligently designed to exceed comfort standards while meeting all the right criteria for a mattress.
To keep a good air flow consistent, they have woven the cover with tufted cashmere cover. To begin with, the mattress's first layer is gel memory foam. As a result of which the sleeper will get a cool sleep. Underneath that it has a combination of memory foam as well as latex layers. Compared to other hybrids the Dreamcloud has better quality.
The mattress and its memory foam will not give you the hugging feeling you require. If a sinking feeling is what you need then DreamCloud isn't for you.
6. Tomorrow Sleep Mattress
The ideal sleep temperature is 88 degree, but the normal body temperature is 91 degree. How does that work? Tomorrow sleep mattress has all the answers. The mattress is infused with a segment change molecule known as the TitanCool™ on the initial surface to balance the body temperature.
It also has a combination of cooling gel beads that melt under increased temperature. As a result of which the mattress gives a very cooling effect. Subsequently these same beads freeze again when the temperature goes down. The variation of the beads keeps the balance going.
7. The Purple Mattress
The most versatile of all the mattresses reviewed till now, there are two different Purple mattresses. Both of them have been layered with a gel, that's called buckling column, with SmartGrid technology. This gel is used on the layer that is deemed the comfort layer, which makes sleeping seem like floating. It also gives the side sleeper a unique feeling, relieving most pressure. The mattresses have a cooling technology to help prevent late night sweats as you're traveling through dreamland.
To begin with the first layer of the mattress is buckling gel, then come two layers of polyfoam. The mattress is compatible and it adapts to most body types easy. The firmness rating is 6.5, which is often the more ideal mattress option for side sleepers. The foam is best suited for people who have particularly sensitive necks and shoulders. The Purple mattress has an approximate longevity of 7 years, though--one year shy of the average mattress life.
The mattress comes with a variety of thickness options as well as firmness options. However, these options vary from model to model.
What to Consider When Buying Mattresses for Side Sleepers
When buying a mattress, you need to take care of some crucial points.
Ask yourself the following questions when choosing what mattress is best for you as a side sleeper:
Buying a mattress is an investment, everyone will agree. Sleepers should be able to reap the benefits of a mattress for 8 to 10 years, which is why it is very important to do your research when mattress shopping.
Side sleepers need a mattress that is soft but also has a slight firmness. Also, consider a mattress that doesn't sink and gives full support to the body and its pressure points. Side sleepers should also consider a mattress that sleeps cool as well. Most of all, a good mattress comes with a decent trial period. The trial period is important to get to know if it will work for you or not.
The mattress should have decent layers and you should also feel it's the best value for your money. Being able to flip the mattress can be an added bonus, but a more firm mattress won't need to be flipped as often.
Which Mattress Should Side Sleepers Choose?
Reviewing and comparing all of the above, we have reached a conclusion. Leesa Mattress, which gives you a decent trial period. 3 layered perfect designing, with 2" LSA200™ Foam (initial layer), 2" Memory Foam (in the middle) and 6" Thick Core Foam as support layer. The whole mattress comes to the thickness of 10 inches.
It also adapts to not only side sleeping positions but other positions as well. The mattress also sleeps pretty cool. It doesn't transfer motion and it also reduces pressure on the body. The body conforming as been perfected in this mattress as well, which makes sleep a novelty experience.
There are cons, but the pros outweigh them. The mattress is a good value as well as a good investment. Hence it is our review choice.
To sleep the most comfortable at night, you need the best mattress for your body type and sleep style. Take your weight into account, as well. Heavier people may benefit more from some mattresses than others. The best way to select a mattress is to lay out your needs.