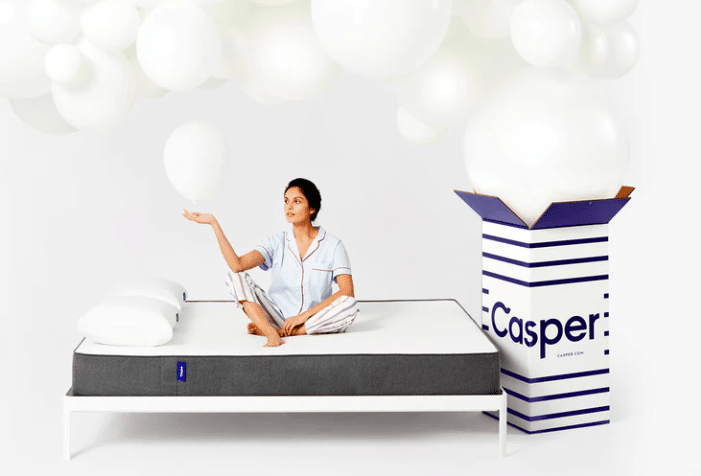 A quick note: we review products independently, but we may receive affiliate commissions when purchases are made through the links on our site.
When it comes to mattresses in a box, the Casper is ubiquitous in the mattress industry. They're so popular that you may even associate mattresses in a box with Casper--and with good reason. Casper has indeed left no stone unturned in the process of creating this versatile mattress. So, what are some of the highlights?
Made almost entirely of foam, the Casper mattress is a great all-around option for those looking for comfort and support at a reasonable price point. The company has worked hard to create a bed with a versatile and innovate design to accommodate a range of body types, and they've certainly done a fantastic job.
What Is a Casper Mattress?
Casper was founded in 2014, and their goal was to help people achieve better sleep. They receive a lot of credit for moving the mattress industry toward online retail, and their product is just one part of this. Customer service that goes above and beyond, permitting this shift to selling mattresses online, is the other part.
Casper sells just three types of beds, and the Casper mattress is its flagship. It is available in one firmness option, and all of the mattress sizes are made with four layers that add up to 10" of almost all foam.
Since it was created, the Casper mattress has developed somewhat of a cult following on social media, where people love this product. But the question remains--is this mattress worth the hype? This Casper mattress review will take an in-depth look at the features, who this bed works best for, and pricing so you can decide for yourself if it's worth it.
Let's start with a closer look at how the Casper mattress is made.
Cover
The mattress cover is a soft polyester blend that feels nice to the touch. We like that you can remove it with a zipper in case of spills or stains. Because the cover is removable, a mattress protector isn't obligatory, but it is a good idea to invest in one to keep the cover clean. Plus, Casper isn't explicit about whether or not you can throw it in the wash.
Top Layer
Taking a look at the mattress from the top down, the top layer, or the comfort layer, is the part of the bed that is in closest contact with your body. Casper designed the top layer with latex-like foam that has a soft bounce to it. At the same time, it allows you to sink in for maximum comfort and is made with cooling technology to ensure you don't get too hot.
Contour Layer
As we move down the layers of the mattress, we come to the contour layer. The contour layer is made with memory foam that allows the mattress to conform to the shape of your body. This layer also extends pressure relief from the top through the rest of the mattress.
Transition Layer
The third layer is where the design gets interesting, as this is where we find zoned support. Zoned support refers to the use of firmer poly foam in the center of the bed and softer poly foam at the ends of the bed. What zoned support is meant to do is provide targeted pressure relief for the different parts of your body.
Foundation Layer
The fourth and final layer gives the mattress its structure. It's made with heavy-duty poly foam.
Firmness
Before discussing firmness, it's important to mention that this is a subjective measure. Different body types respond differently to mattresses, and what's firm to one person might feel soft to you--based on height, weight, and overall size.
With that in mind, based on user review, we can say that the Casper mattress falls just above medium firmness. The firmness scale goes from 1 to 10, with one being the softest and ten being the firmest, and this mattress ranks right around a 6.5/7 on the scale.
Motion Isolation
How much will you notice your partner tossing and turning at night or when they get out of bed before you in the morning? Motion isolation is a significant consideration if you sleep with a partner because you don't want to feel their every move.
The good news is that while eliminating movement from the other side of the bed altogether is a tall order, the Casper mattress does a reasonably good job at containing movement. You shouldn't be able to feel your partner tossing around too much.
Edge Support
Edge support is another consideration if you sleep with a partner. When sharing a bed, you may need to utilize as much of its surface area as possible, including the edges--which is why we want to talk about edge support.
Foam mattresses are notorious for having weak edge support, but the Casper mattress surprises pleasantly in this regard. Users report that the sides of the bed remain relatively stable when lying down, though there is more compression if you're sitting on the edge.
Cooling
Another notorious feature of foam mattresses is that they can get pretty hot, but one of the hallmarks of the Casper is the proprietary material used in the top layer that helps avoid that issue. This material promotes airflow and absorbs minimal body heat, making this mattress one of the more cooling foam options.
Where Can I Try a Casper Mattress?
While Casper got its start as an online mattress retailer and sells the majority of their mattresses online, they do have a handful of physical locations where you can try out the mattress.
Though buying a mattress you've never touched, let alone laid down on, can seem like a crazy idea, the best place to try the Casper is actually in the comfort of your own home. Casper's extended trial period makes it easy to take the leap at no risk to you.
Casper Mattress Trial Period & Warranty
To encourage people to buy mattresses they haven't tried, Casper allows a full 100 days to sleep on it and decide if it's the mattress for you. That's right. You get 100 days to assess whether or not the mattress is doing what you want it to do. And if it doesn't, you can send it back, no questions asked.
If you're unsure about the mattress, we do recommend waiting some time before returning it. Because it can take a while for your body to adjust from your old mattress to your new mattress, it might take several weeks to get used to the new one. It's best to wait at least a month before making a decision, and even better if you use the full hundred days.
The Casper mattress also comes with a 10-year warranty that covers standard manufacturing defects. We recommend taking a close look to see what the warranty covers and what you would be responsible for--like damage resulting from using an improper foundation.
Speaking of foundations, Casper recommends using their foundation, but any standard foundation should work, such as a wooden slatted or platform bed.
Who Can Get the Best Night's Sleep in a Casper Bed?
Now we come to probably the most critical consideration of this Casper mattress review. Who is this bed best suited for? The good news is that Casper is a jack of all trades when it comes to pleasing various types of sleepers.
Stomach & Back Sleepers
Stomach and back sleepers have one thing in common, and that is the need to maintain a relatively neutral spine position when sleeping. Though a firmer option might be better, this mattress does an excellent job of providing that spine support, making it a sound choice for stomach and back sleepers.
Combination Sleepers
Side and combination sleepers can also rest comfortably on the Casper mattress. The soft foam relieves pressure around the shoulders and hips, which helps alleviate the feeling of having a dead arm and provides a comfortable sleeping experience in general.
Hot Sleepers
We've already touched a bit on the material used in the bed, which is Casper's proprietary foam made with unique technology to facilitate air flow. We can say that Casper is a temperature neutral bed, meaning that it sleeps neither hot nor cold. If you tend to sweat at night, this mattress won't prevent you from overheating, but it won't make you warmer, either.
Keeping that in mind, many users report that the Casper bed is on the cooler side for being a foam mattress. If temperature control is a concern for you and you're set on a foam option, this could be a great choice.
Average and Petite Sleepers
The last category of sleepers well-suited to the Casper bed is average and petite sleepers. The medium firmness and zoned pressure relief will offer enough support for people who weigh up to or around 250 pounds.
Couples
We discussed two of the features that play a role in making Casper a good purchase for couples, which are the edge support and motion isolation.
We've all been there--you know, that moment where you wake up in the middle of the night perched precariously on the edge of the bed while your partner lies happily in the middle. If this is a situation that repeats itself frequently in your bedroom, Casper has ample edge support to keep you from falling off the bed.
And as we would expect from a foam bed, this mattress does a fine job of reducing motion from your partner's side of the bed.
Who Can't Get the Best Night's Sleep in a Casper Mattress?
Most people are going to like this mattress and find it comfortable, but it won't work for absolutely everyone.
Those Who Need Firmness
If you like a firm mattress, Casper's just not going to cut it. Foam in general probably isn't the most fabulous mattress choice if you want your bed rigid.
Heavy Sleepers
Unfortunately, heavy sleepers (over 250 pounds) need a bit more support than Casper's 10" foam construction can handle. For these people, a hybrid mattress with foam and springs or just springs could be better choices, but if you prefer foam, look for something thicker and firmer.
How Much Does a Casper Mattress Cost?
As Casper is an online brand, this allows them to keep their costs down. It's one of the more affordable beds in a box and is comparable to other mattresses on the market.
Sales & Shipping
The prices for the Casper mattress are as follows:
Twin mattress: $595
Twin XL mattress: $645
Full mattress: $845
Queen mattress: $995
King mattress: $1195
California king mattress: $1195
Sales prices include free shipping within the continental US and Canada, though fees may apply when shipping to Hawaii, Alaska, the Northwest Territories, Yukon, and Nunavut.
You can also opt for white glove delivery. If you're unfamiliar with the term, white glove delivery means that a delivery team takes care of all the logistics and sets up the bed in your house. They do everything except put the sheets on the mattress, which, when you consider that the Casper mattress weighs 80 pounds in the box, is pretty nice.
Where can you buy it? It's available for purchase directly from Casper's website, on Amazon, and Target also sells Casper.
Setting Up A Mattress-in-a-box
As its name suggests, this mattress in a box actually arrives at your door rolled up and compressed in a box. Setup is simple--all you have to do is take the mattress to wherever you plan to sleep, remove it from the packaging, and cut off the plastic wrap. Once you've done that, position the mattress on the foundation, unroll it, and let it expand.