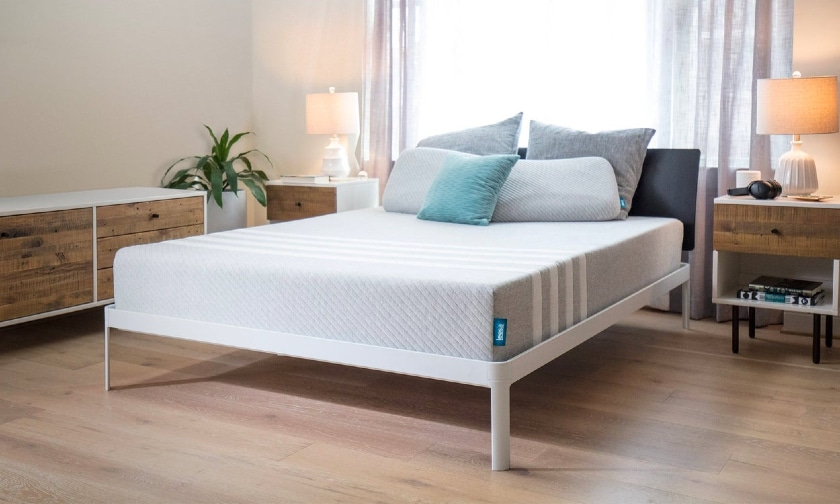 A quick note: we review products independently, but we may receive affiliate commissions when purchases are made through the links on our site.
If you're looking for a mattress that provides fantastic value-for-money, the Leesa mattress is a great option. This 10" all-foam mattress is constructed with three foam layers made to balance support with pressure-relieving technology. The result is a design that will suit a variety of different sleepers, making this mattress a sound choice for the average person.
For $995, you get a top-quality queen size all-foam bed delivered to your door that won't make you feel like you're trapped in quicksand--one of the major issues with this type of mattress. You can try it out for a full 100 days and return it for free if you find it isn't right for you, but you'll probably love it because everyone else who tries it seems to love it, too.
What is a Leesa Mattress?
Ever since their launch in 2015, Leesa has revolutionized the bed-in-a-box movement in the mattress industry. They've become a top producer of this type of bed, which is traditionally only sold online, and have even partnered with stores like West Elm and Third Sheets to allow customers to try the beds in person.
One of the things we like most about Leesa is that they are committed to giving back to the community. One of their points of pride is that for every ten mattresses sold, they donate one, and last year alone they donated 1,500 beds across the United States.
Employees dedicate one percent of their time to charity work, specifically to combat homelessness, domestic risk, and human trafficking. And they also plant one tree for every mattress sold to offset environmental effects.
Now that you know a bit about the values behind this phenomenal company, let's take a look at the mattress' main features. As we mentioned, the mattress is 10" thick, which means most standard sheets will fit it, and it's made of three layers.
Cover
The outer layer of the Leesa mattress is the iconic four stripe cover, made with polyester-lycra. It's seamless, and you'll notice when you touch it that it's soft and cool to the touch. Unlike other brands' mattress covers, Leesa's is not removable, so they recommend purchasing a waterproof mattress protector.
Top Layer
The top layer, or the comfort layer as Leesa refers to it, has been updated in the latest version of the mattress. It was initially built with Avena foam, which is a bouncy and responsive material, but Leesa created a new top layer to improve on certain Avena aspects.
This new technology, called LSA200, is 2" of foam that allows the top layer to move with you in bed, meaning that your body is almost always supported. The LSA200 foam is less dense than the old Avena material, and the main advantage of this new structure is that it allows for significantly improved airflow and breathability.
Middle Layer
The middle layer, or recovery layer, is made of 2" of memory foam that responds slowly to pressure; in fact, it reacts much more slowly than the comfort layer. What this does is relieves pressure and helps the top layer contour to the body.
Remember how we mentioned that this mattress doesn't make you feel like you're trapped in quicksand? The sinking problem, an issue in many foam mattresses, is eliminated because of the design of this middle layer. The design also helps alleviate the heat problem that other foam mattresses have.
Bottom Layer
Finally, the bottom layer, or the support layer, is made of 6" of dense core foam that adds durability and shape and supports a variety of sleep positions.
Firmness
Before we discuss how firm this mattress is, we have to mention that this measure is subjective. Everyone feels firmness differently, and this is due in large part to your size. Heavier people find most beds to be softer in general, and lighter people say that beds are firmer.
Leesa wanted to design a mattress that the maximum number of people could buy and enjoy, so they created one with medium firmness. Indeed, the Leesa is right in the middle of the firmness scale, which is something that will appeal to a significant number of people.
With this medium firmness, you'll get pressure relief on parts of your body like shoulders and hips, but as we mentioned, you won't feel trapped in the mattress.
Motion Isolation
Motion isolation is a big concern when the time comes to buy a new mattress. After all, if you sleep with a partner, you don't want to feel their every single toss and turn. All-foam mattresses tend to handle motion transfer well, and the Leesa is no exception.
The multiple, dense layers of foam help reduce the amount of disturbance detectable from the other side of the bed, meaning that you shouldn't feel your partner's movements too much.
Cooling
The same way that firmness is subjective, so too is how hot you find a mattress. Again, this will much depend on your size; if you're light, you'll probably find the mattress cooler because you won't sink in as far. If you're heavy, it will feel hotter. This logic can be applied across the board, regardless of mattress brand.
Because of their dense layers, all-foam mattresses are not known to be the most cooling type of bed available. This fact was true of the previous Leesa model, the Aveno, which ran a bit hot for some people.
However, as we mentioned, the LSA200 top foam layer is less dense and was designed to facilitate greater air flow and with breathability in mind. The result is a much cooler mattress, that, unlike its other all-foam counterparts, should sleep reasonably cool.
Where Can I Try a Leesa Mattress?
If the idea of buying a mattress you haven't tested makes you nervous, you can go in person and get a feel for the Leesa mattress at over ninety-five West Elm locations in North America. Certain Pottery Barn stores also carry the Leesa mattress, but we recommend checking before you go to make sure the store actually has the mattress.
Of course, the real idea behind the Leesa mattress is that you try it extensively in your own home.
Trial Period and Warranty
Since most people will be testing the mattress in their own home, Leesa wanted to make the barrier to entry as low as possible. To do just that, they offer a 100-day trial period. That's right; you get 100 full days to decide if the mattress is the right fit for you.
To make sure you genuinely test the mattress, we recommend taking at least thirty days to decide whether or not it works for you. More than thirty days is even better because it takes your body some time to adjust to the mattress. Plus, the bed will feel firmer than usual the first couple of weeks, which is why it's essential to use the full trial to see if you like it.
What happens if one hundred days come and go and you truly don't like it? You get a full refund, no questions asked. It's as simple as that. And unless you live in Alaska or Hawaii, you get a free return (Alaska and Hawaii residents have to pay $100 for this service).
If you're worried about what will happen to the mattress you don't want, Leesa donates them to local charities.
The Leesa mattress also comes with a ten-year limited warranty that covers standard manufacturing defects. Read up on the warranty, mainly because it will tell you what kind of frames you can use with the mattress.
Speaking of frames, according to the Leesa website, these are the best types of structures to use with your mattress:
A solid platform
A solid box spring/foundation
A Bunkie board on a traditional box spring
A slatted base
Who Can Get the Best Night's Sleep in a Leesa Bed?
Now we're onto possibly the most crucial question of this Leesa mattress review: what type of sleepers is this best suited for?
The good news is that the medium firmness of this mattress makes it suitable for a large number of people, but please remember that everyone has a slightly different sleep experience.
With that in mind, let's take a look at who can get the most out of the Leesa mattress.
Back/Stomach Sleepers
The LSA200 foam used in the mattress provides support without being too soft, which makes the Leesa an excellent choice for those who sleep on their back and stomach. The combination of firmness and body contouring still allows sleepers to maintain a relatively neutral spine, which is what stomach and back sleepers need.
Side Sleepers
The pressure relieving technology means that side sleepers can rest easy knowing that this mattress won't put stress on their hips and shoulders or make their arm fall asleep.
Hot Sleepers
As we mentioned, the foam in the top layer of the mattress is highly breathable. If you're a warm sleeper who likes all-foam mattresses, the Leesa is a good buy.
While it shouldn't feel hot, various factors influence how hot you perceive a mattress to be. Things like the sheets you use, whether or not you sleep alone, if you sleep on your stomach, and the temperature of the room all affect your heat perception.
If you're concerned about the mattress in summer, there are some steps you can take to make it cooler. Use lightweight blankets instead of comforters, and swap out thick sheets for moisture-wicking, breathable ones.
Those in Need of Pressure Relief and Mobility
The problem with pressure relieving mattresses is that when you lay down, it can feel like the bed is sucking you up. Sure, the weight is gone, but you can't move. Leesa has managed to solve this problem. The top foam layer has some bounce to it, which allows you to move around without much difficulty.
How Much Does a Leesa Mattress Cost?
Leesa is a titan when it comes to the bed-in-a-box companies, and a lot of their rise to the top is due to their mattress pricing. Leesa has created a top-quality mattress with economical pricing. Let's take a look at what this mattress will run you.
Sales & Shipping
The prices for the Leesa mattress are as follows:
Twin mattress: $595
Twin XL mattress: $695
Queen mattress: $995
King mattress: $1195
California king mattress: $1195
The company offers free shipping, and once you buy the Leesa mattress, it arrives within 3-7 business days. Additionally, white glove delivery is available for $100, and Leesa will remove your old mattress for an extra $50.
White glove delivery, for those unfamiliar with the term, is when a regional or local delivery firm handles the delivery of your mattress and a team sets up your bed in the room you want. The downside is that this service takes longer than having your mattress sent via UPS, but you don't have to worry about anything because the movers do the heavy lifting (literally).
Setting Up A Mattress-in-a-box
The mattress will arrive rolled up in a box, hence the name. Once it reaches your home, setup is simple.
Take the box to whatever room you plan to use it in, and take the rolled up mattress out of the box. Remove the plastic wrapping and set the mattress on the bed frame. Unroll it in the position you want, and in roughly 24 hours, it will expand to its normal size. You can even sleep on it the first night, though it'll be softer than normal.