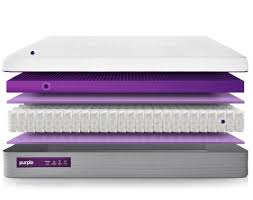 A quick note: we review products independently, but we may receive affiliate commissions when purchases are made through the links on our site.
Two successful mattress companies, both claiming their product is simply better.
Which do you choose?
You can choose a mattress that is quality-made, lasts for years, and fits your budget. And, of course, you'll want a mattress that makes you not want to get up after you lay down. Waking up rested after a comfortable night's sleep is worth a thorough search.
Two companies that have put together a better designed mattress are Leesa and Purple. Both sell their products online direct to consumers. Each provides a mattress designed to hug you while you're sleeping and deliver the slumber your body needs.
Best Mattresses for Back Pain
Walking through the choices of mattresses, there is no one size or design that fits everyone exactly. Delve into how a mattress fits your body height and weight, sleeping position, and comfort preference. Firmness is a factor in all these, so let's see how our next two mattresses stack up.
As one of our top rated mattresses, Leesa quickly made its presence known with a mattress delivering a high level of reducing pressure points, including hips, head and shoulders. The "dead arm" sensation – arms or hips – after waking has forever been a problem for many people. Leesa constructed its mattress using its own LSA200 Foam Technology™.
The compact design of this mattress follows Leesa's mission of providing an affordable alternative to higher-ticketed products from traditional sales outlets. Considered a premium foam mattress, the Leesa applies its LSA200 Foam technology to craft a well-engineered sleep experience.
Leesa combines 3 layers of foam to achieve its enhanced comfort mattress design that is 10 inches thick in total. All layers are wrapped in a polyester-blend fabric with Egyptian cotton stitching on the edges. The cover is easily removed for washing in cool water on a gentle machine cycle. Hang to dry.
The 2-inch comfort layer rests atop the lower layers and is constructed from the LSA200 Foam. The science behind the foam enhances cooler sleep, provides more responsive bounce, and adds pressure relief for side sleepers. Leesa touts this layer as the "perfect hug" for restless sleepers.
The recovery layer is sandwiched between the other two and is made from memory foam at 2 inches thick. This layer increases pressure relief while balancing the foam around the body and adding a level of minimizing motion transfer.
Leesa rounds out the mattress construction with a 6-inch deep dense core foam for the base layer. The foundation layer adds a thickness designed to support all body types and sleep positions. All layers combined total 71 pounds for the queen size.
Purple Mattress
Purple has been developing various comfort and sleep products for several decades. Purple products are designed from the free-thinking minds of the creators one of whom is a scientist by trade. The New Purple Mattress is the next generation of marrying science with the comfort industry and creating a mattress designed to set a new standard.
Purple merges traditional and foam mattress designs into a formula of next-level, science-enhanced comfort experience. This is a heavy mattress at 168 pounds that can hold its weight against any mattress in a box. The Purple can also hold most any weight of sleeper – a maximum weight of 600 pounds is suggested – while supporting all sleep styles.
Based on your chosen firmness level, the thickness of this mattress ranges from 9.5 to 11.5 inches. Unlike most foam mattress, Purple allows a choice of comfort level – firm, medium, or soft. Firmness variations are obtained through Purple's secretive comfort foam.

The top layer of the mattress is the Smart Comfort Grid™ made from Purple's proprietary Hyper-Elastic Polymer™. Sleepers can choose 2-inch (firm), 3-inch (medium), or 4-inch (soft) thicknesses based on their desired comfort. This foam grid is a product of high-tech cooling technology Purple designed to boost air flow between sleepers and the mattress to help dissipate body heat.
Metal coils, like those found in traditional innerspring mattresses, are individually encased in fabric to form a 7.5-inch base layer. This unique design is a sturdy foundation for the upper foam layer. The linked coils are designed to provide responsive support for sleepers' body movements as they move in unison with body movements.
Purple's layers are wrapped in a special weave cover knitted to provide a fire retardant without using chemical treatments. Spot cleaning as needed with mild detergent keeps the cover clean.
Materials and Durability of Leesa vs Purple
Mattress manufacturing has been around longer than anyone has been alive. What's exciting about the industry today is the infusion of new technology – like most anything in life – that helps people sleep better. Sleep today is so much more than just "crashing" on a pad, it's about rest, long-term health, and a well-made mattress that holds up over time.
Leesa and Purple are two mattress companies heralding in the new age of sleep comfort.
The Leesa Mattress, a relative newcomer, is marketed as a destination for rest and relaxation. The multi-layer foam design hit the online market about four years ago after improving on industry standards to produce a lasting mattress. The design followed newer foam science without sacrificing meaningful rest.
The New Purple Mattress is the second generation of mattress from a company steeped in years of applying science and medical comfort applications to consumer bedding. Central to Purple are its proprietary formulations of gel and foam mixed into a mold of pressure-reducing comfort and support. The foam materials in the New Purple Mattress are expected to last decades.
Both companies manufacture and assemble their products in the United States.
Sleeping Positions
Everyone has that snuggly position they assume after their head hits the pillow. It's the first step in attempting a good sleep but sleeping position ultimately doesn't do the trick. People start the night on their backs, bellies, or sides, yet may end up in a completely different position by morning. How your mattress handles all the tossing and turning weighs heavy on how much rest you get overnight.
Leesa and Purple want you to put their comfort science to the test to find out if their mattresses deliver restful sleep.
Better sleep starts with a solid base underneath that can adjust through the night. The Leesa mattress is designed to allow roaming sleepers plenty of room to achieve a level of relaxation that leads to true rest. Leesa is rated as a medium firm comfort level to appeal to a wide range of sleepers thanks to its dense base and multi-layered design.
Leesa's secret sauce is the top foam layer of LSA200 Foam with microcell structure that increases air flow and keeps the mattress cool to the touch from the moment you slip under the sheets. Combine the coolness with pressure relief from the middle layer and sleepers are less likely to heat up and suffer from odd contortions in the middle of the night.
Leesa sleepers gush in reviews how they wake up after a night of sound sleep from their mattress that delivers relief from restless movement and body aches. The dense-core foam base layer rounds out the support for sleepers of all types.
Purple didn't hold any punches with its latest mattress and "engineered for every body" mindset. Modern foam technology advanced another step when Purple introduced its newest mattress. Interestingly, Purple's design borrowed an effect from innerspring construction to meld science and tradition.
The comfort-enhancing top layer of Hyper-Elastic Polymer allows sleepers to choose firmness. This is not a selection in most foam mattresses locked into one firmness rating. The base layer shifts and follows sleeper movements throughout the night which further supports the personal firmness selection.
The New Purple mattress outweighs most comparable foam mattresses due to its science-tradition combination. Purple believes weight equates to quality and you'll realize this upon delivery. Purple doesn't recommend manhandling this mattress alone and includes an extra carrying strap on the packaging.
As Purple says, the goal for all sleeping positions is complete, immersive comfort all night long, each night you lie on this layered compilation.
Body Contouring
Memory foam hasn't had the best reputation in the past. Instead of body contouring – a gentle wrap around your body while supporting weight – many still view memory foam as material that ends up in a hot, lumpy mound
Leesa and Purple have taken design steps to eliminate this foam stigma with their latest designs. Cool material and restful sleep are all that counts with these two companies. Their respective customers validate mattress performance.
Benefits of the Leesa Mattress
The top two layers of the Leesa mattress were expertly designed to provide a cooling feeling at first touch and body contouring that relieves pressure.
Too many mornings waking up with body pains after sleeping hot all night long drive consumers to Leesa's generous trial period. Responsive foam that cradles the body keeps sleepers steady in comfortable positions while the well-engineered foam allows air to move through the mattress. Air flow may happen at an unseen level, but it makes a difference over hours of your static body releasing heat.
Padding from the thick base contributes to comfort when the body moves less. Sleepers tend to rest more comfortably when not rustling about under the covers. Leesa works to restore restful sleep patterns.
Benefits of the Purple Mattress
Curling up in a plush bundle of covers on a cool night is akin to sleeping on The New Purple Mattress. The proprietary, secretive mixture of Smart Comfort Grid™ material Purple uses in its top layer creates air flow like an unseen draft. Air flow from the engineered foam grid fends off body heat.
The Smart Comfort Grid™ is soft at all firmness levels yet supports sleepers' body weight backed by the underlying base layer.
Pressure points melt away as The Purple absorbs weight and "spoons" your body. Motion virtually disappears on the mattress surface even if someone jolts suddenly in the night. The innerspring-style coils in the base help the upper foam rebound against pressure. The mattress won't "ball up" like older foam designs.
Check out our reviews on the Original Purple Mattress and the New Purple Mattress to see which mattress is best for your needs.
Comfort Commitment
Leesa and Purple stick with their customers, even those that ultimately choose another mattress.
Both offer a money-back guarantee preceded by a 100-night trial period. Sleep away and keep the mattress if your sleep is restful, they say. Both back their slumber products with a 10-year warranty.
Both offer free shipping and returns. Leesa and Purple mattresses are made in the U.S.A. Leesa ships in about seven business days while Purple takes up to four weeks. The Leesa Mattress is self-installed right out of the box while The All New Purple Mattress arrives ready to go or you can choose optional white-glove set up.