A quick note: we review products independently, but we may receive affiliate commissions when purchases are made through the links on our site.
Puffy is a newcomer in the world of memory foam mattresses, but they have hit the market with a bang and we're here to review it.
Puffy Company Review
Although just launched in 2017, the Puffy mattress comes as the result of four years of intense research and development, different foam formulations, and sleep trials. The R&D seems to have paid off, as they have been rated the best mattress of 2018 by Highlight Reviews, as well as the most comfortable mattress of 2018. And the awards have continued into 2020 and beyond. If your bed needs an upgrade – especially if you do NOT want latex in your memory foam mattress – this mattress could be your non-toxic solution.
Puffy designed their mattress with the goal of universal comfort in mind. The team wanted to create a mattress that would be comfortable for the vast majority of sleepers and their preferred sleeping positions. Their logo is a cloud, and many reviewers have in fact described their sleep experience as being like sleeping in the clouds. We've found that those who purchase online at Puffy.com or through dealers rate the business highly. Even Puffy mattress reviews on Reddit tend to be favorable.
Puffy currently offers three different models: the original Puffy, the Puffy Lux, and the Puffy Royal! All mattresses fall in the range of medium firmness on the firmness scale.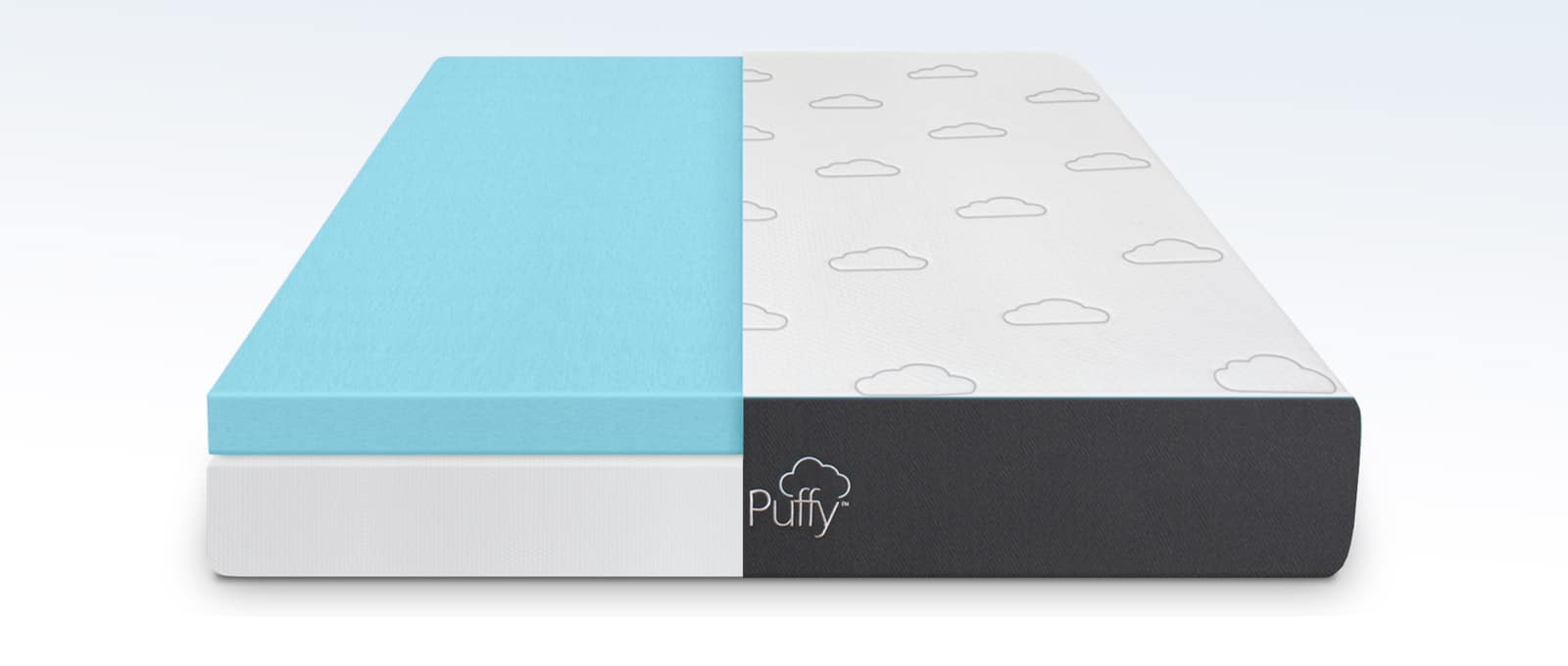 Puffy Lux Hybrid Mattress Reviews
The Puffy Lux has an extra layer of memory foam, making it two inches thicker than the original. It sleeps a little softer, as well, and is more adaptable to all sleeping positions, especially side sleeping. It uses the same patent-pending cooling cloud technology, so you will sleep just as cool. Sleepers will also find that the Puffy Lux Hybrid has similar pressure relieving qualities, offering additional support to back and side sleepers. In place of a foam base layer, the Puffy Lux Hybrid mattress features breathable coils, making it better suited for hot sleepers.
Before you look at the difference between this and, say, Leesa, Needle, or Tuft, make sure you consider any pain that you may be having with your current mattress and whether it's on a standard base or an adjustable one. Puffy Lux and other Puffy mattresses can provide pain and pressure relief, and these mattresses are suitable for virtually any frame.
Puffy Royal Mattress Reviews
Two inches thicker than the Puffy Lux, the Puffy Royal mattress offers optimal cloud-like comfort to sleepers of all kinds. Puffy Royal combines memory foam and adaptive coils for more bounce and mobility without compromising the body-contouring capabilities of the original Puffy. Like the other Puffy models, Puffy Royal provides sinkage that helps alleviate pressure and pain, especially for back and side sleepers. This mattress is slightly softer than the Puffy original, providing extra comfort but less firmness and spine alignment than the other Puffy models available.
How the Puffy Mattress Is Made
All Puffy mattresses are made with Certipur-US certified foam, using environmentally friendly practices. This means that they are guaranteed to be free of any harmful chemicals, ozone depleters, or other pollutants. Not only is this better for the environment, it is also better for your health. You don't have to worry about inhaling any dangerous fumes or having chemicals leach into your skin while you sleep.
Puffy mattresses are also 100% manufactured in the USA so you can sleep soundly knowing that you are supporting American jobs.
Bottom Layer
The 6″ bottom layer is made from Puffy's Firm Core Support Foam. This special foam uses Insta-Firm technology to provide 99% better responsiveness and 4x the support of a regular mattress. It is specially designed to ensure proper spine alignment but also provide enough give to adapt to your body shape. This gives you the pressure relief that you need to be comfortable, thereby reducing tossing and turning. It is sturdy enough to allow the mattress to be used on any surface, as well.

Top Layer
Puffy claims that their patent-pending 4″ Cooling Cloud Memory foam layer is the magic that makes them the best mattress of 2021. This gel-infused foam uses a special cooling technology to whisk heat away from your body while you sleep. The Cooling Cloud provides 8x more airflow than a standard foam mattress. It also molds to your body, relieving your pressure points and providing comfort to tired joints.
Cover
The Puffy mattress cover is 100% polyester and is both removable and machine washable.

Get Your Puffy Lux Mattress Now
Puffy Mattress Dimensions and Weight
The Puffy all-foam mattress is available in all standard mattress sizes.
| | | |
| --- | --- | --- |
| Mattress Type | Dimensions | Weight |
| Twin | 39″ x 75″ | 41 lbs. |
| Twin XL | 39″ x 80″ | 45 lbs. |
| Full | 54″ x 75″ | 58 lbs. |
| Queen | 60″ x 80″ | 69 lbs. |
| King | 76″ x 80″ | 87 lbs. |
| California King | 72″ x 84″ | 87 lbs. |
How thick the mattress is varies across the Puffy Original, Lux, or Royal models. However, you'll find that regardless of the model you choose, the mattress will be soft and go well with just about any headboard. Of course, the prices of these mattresses will vary, but financing is always available.
Puffy Mattress Firmness Rating
Puffy designed their mattress to be comfortable to the widest possible range of people. It has a medium firmness level, which is perfect for the average sleeper. This is suitable for practically all sleeping positions and whatever pillow you use, so whether you sleep on your back, stomach, or side, you should get a good night's rest.
The mattress is also available with an adjustable frame – and you can get a discount on that, as well. Typically, the discounts and deals you receive with Puffy are consistent.
Motion Isolation
Puffy uses high-quality foams in the construction of their mattresses. This allows them to have one of the best weight distribution systems on the market. Translation? There is almost no motion transfer in their mattress. So even if you happen to have a partner that moves around a lot or likes to grab a midnight snack, you won't be disturbed. Many have also mentioned that the mattress pad you get with many beds makes the twin mattress as comfortable as the Tempurpedic beds you may have tried in the store.
Temperature Control
Puffy makes all of their mattresses with their proprietary Cooling Cloud Memory Foam. This does a really good job of keeping you cool while you sleep. The gel in the foam absorbs body heat and helps in dissipating it. The whole mattress is also breathable which prevents heat build-up. The firmness level prevents excessive sinking which is a common cause of overheating. Basically, Puffy designed their cooling system really well so that you don't have to worry about sleeping hot.
Pressure Relief
The comfort and cushion offered by the Puffy mattress can help relieve pressure on pressure points, making it an exceptional choice for side sleepers who may experience discomfort when their mattress does not provide enough support. Thanks to the memory foam layers of the Puffy mattress, sleepers can rest easily.
Individuals who have concerns about pain often choose pressure relieving mattresses like Puffy because they not only sleep better but also wake with less soreness and stiffness, allowing them to feel refreshed and ready for the day.
Edge Support
Despite being an all-foam mattress, Puffy provides above average edge support compared to competing mattresses. Around the perimeter of the mattress, the edge may sink when you get on and off, but there is more resistance and bounce-back than you might expect, providing a good amount of edge support.
Sleep Style Compatibility With Puffy
Reviews of the Puffy mattress often express that it can provide comfortable, cloud-like sleep to most individuals. Some sleepers may find the Puffy mattress more appealing and suitable than others.
Side Sleepers
Side sleepers will likely enjoy and benefit from the Puffy mattress the most. The medium firmness of the Puffy mattress can provide sufficient pressure relief, spine alignment, and overall support that suits side sleepers and encourages comfortable sleep.
Back Sleepers
The Puffy mattress typically provides enough lumbar support for back sleepers to get sufficient rest. The comfort and support offered by Puffy can help back sleepers avoid back discomfort or pain. Heavier back sleepers may require a firmer mattress to sufficiently support their spines and provide maximum comfort.
Stomach Sleepers
Of all sleeper types, stomach sleepers may have the most trouble sleeping comfortably on a Puffy mattress depending on their weight and preferences. However, stomach sleepers who weigh 130 pounds or less may find that the softness and conformity of the Puffy mattress is perfectly comfortable.
Combination Sleepers
Because the Puffy mattress offers comfort and support for most sleeper types, combination sleepers will find this mattress suitable for all their sleeping positions. Because the Puffy mattress is responsive and conforming, combination sleepers will find comfort and support throughout the night no matter what position they end up in.
Puffy Mattress Trial Period & Warranty
Puffy stands behind their products. Service and simple setup are important to them. They offer a
101-night risk-free trial
. It is recommended that you allow 3-4 weeks for your body to adapt to your new mattress. However, if you are unhappy at any point during your trial period, you can return your Puffy for a full refund. Note that shipping charges to Alaska and Hawaii will not be returned.
All you have to do is call the company, and they will arrange to have your mattress picked up and donated to a local charity. So, if you've been asking yourself, "Is Puffy mattress any good?" you can buy a Puffy Lux or Puffy Royal and feel good about it, knowing you can return the mattress if you need to.
Puffy is so confident in their mattress that they offer the
best warranty policy in the industry: Lifetime
. The Puffy lifetime warranty covers all manufacturer defects for as long as you own the mattress. Puffy also offers a cool "Quick Sleep" option. If your mattress is more than 10 years old, you can buy a brand new mattress for half of the original price that you paid.
So, if you do happen to end up waking up with a stiff back, experience sweating, or having any other first hand complaints or bad experiences – Puffy will come and take back the mattress. Even if you bought it through a referral source like this one.
How Does the Puffy Mattress Compare?
We've taken the time to compare the pros and cons of many different mattresses as well. Reviews for Puffy mattresses often compare features such as firmness, softness, support, and more, and it's important to consider your options before making a commitment. You can learn more about how the Puffy Mattress measures up to others in the industry by taking a look at the following pages:
How Does the Puffy Mattress Compare?
We've taken the time to compare the pros and cons of many different mattresses as well. Reviews for Puffy mattresses often compare features such as firmness, softness, support, and more, and it's important to consider your options before making a commitment. You can learn more about how the Puffy Mattress measures up to others in the industry by taking a look at the following pages:
Mattresses from Puffy and Ecosa are remarkably popular among consumers, 
Mattress costs and motion transferability may be deciding factors between Puffy and Casper.
Purple mattresses have been on the market longer, but Puffy mattresses are worthy competitors.
Puffy and Saatva mattresses are constructed differently, offering unique features and benefits for a good night's sleep.
Both Puffy and Nectar mattresses feature CertiPUR-US certified foam to provide comfort and support.
In the future, we hope to break down other bedding products like Rumpl, Layla, Ghostbed, Lull, Dreamcloud, Leaf, Loom, Bear, Avocado, Dream sleep, Sleep Number, and other hybrid mattresses – as well as pillows, even more spring mattresses, and sheets.
Addressing Puffy Mattress Common Complaints
No mattress is perfect for everyone. While Puffy mattresses have received consistently high ratings and favorable reviews, there are some common concerns buyers mention. However, many of these can be easily addressed and resolved.
Off-Gassing Odor
Bed-in-box mattresses like Puffy often produce a slight off-gassing odor during unboxing. This is common among all bed-in-box mattresses and is completely normal, though some buyers may be off-put by the smell. Rest assured that Puffy mattresses, made with CertiPUR-US certified foams, are totally non-toxic, and any odors released during unboxing will dissipate after allowing the mattress to air out over the course of 1 to 3 days.
Durability
With relatively-thin layers, the Puffy mattress is certainly not the most durable mattress on the market, but the lifetime warranty and 101-night trial period can guarantee satisfaction over time. If you experience issues during the trial period, Puffy will gladly replace or refund the mattress, and the lifetime warranty will provide you with peace of mind should your Puffy mattress become less supportive and comfortable with use.
Sagging
Because of the light construction, Puffy mattresses can be prone to sagging. This development can occur after years of continued use, though some buyers have reported sagging after a few weeks or months of sleeping, as well. Fortunately, Puffy's lifetime warranty will cover indentations of 1.5" or more, so you can trust that Puffy will provide a mattress that provides comfort and support for a long time.
Temperature
Some Puffy mattress buyers report that the mattress is not as cool as other options. Due to its all-foam design, the Puffy mattress could cause some sleepers to overheat at night, but the thin cover material and cooling foam layers tend to provide sufficient overnight temperature regulation.
Additionally, Puffy mattresses feature an infusion of cooling gel to help combat the heat-trapping tendencies of foam mattresses, which should help keep sleepers cool.
Where to Buy Puffy Lux Memory Foam Mattress
Puffy mattresses are available exclusively on the Puffy web site. Puffy is not sold on Amazon, Costco, or in any brick and mortar retail stores.
Puffy Mattress Pros and Cons
There are advantages and disadvantages to every mattress. Puffy mattresses are comfortable and provide some support for spine alignment, lumbar, and pressure relief. It is important to consider the pros and cons prior to purchasing.
Pros
"Cloud-like" comfort

Great for pressure point and pain relief

Free shipping and quick delivery

Full-body support

Great value for the money

Limited lifetime warranty

Puffy donates to children's shelters
Cons
Limited edge support

Only one firmness option

Not well-suited for sleepers over 230 lbs.

Gel-infused foam minimizes bounce
Puffy Mattress Recommendations
Buying a mattress typically means making a commitment of 8 years on average. Puffy mattresses are great for most sleepers, but they are an especially good choice for some individuals over others.
Highly Recommended
Puffy mattresses are ideal for the following groups:
Light sleepers

Back sleepers

Side sleepers

Combination sleepers

Sleepers interested in pain and pressure relief
Not Necessarily Recommended
Puffy mattresses can be suitable for a wide range of buyers, but some individuals may want to consider alternative options if they fall into the following categories:
Exclusive stomach sleepers

Heavier sleepers (over 230 lbs.)
What to Expect When You Order A Mattress From Puffy
Ordering and receiving a Puffy mattress is a quick, simple process. Puffy ships mattresses quickly and delivers them directly to your door! Puffy mattresses will ship in 2 to 5 business days through FedEx. Buyers will receive a FedEx tracking number to monitor their package, as well. 
Shipping
Shipping is free in the continental US and Canada. Shipping to Alaska, Hawaii, and overseas territories sells for $150.
Delivery
Like most memory foam mattresses these days, Puffy mattresses are compressed, vacuum sealed, and put in an easy-to-handle box for shipping for the customer for installation at the location of their choice.
Once opened, the mattress will expand in a very short time. They don't weigh more than what one or two people can handle. There's no need to wash the mattress, but if you have a topper or protector, you may want to clean it in the wash.
Other Services
Puffy does not offer additional shipping services such as white glove delivery at this time.
Puffy Mattress Final Review
Puffy has worked hard to earn the title of Most Comfortable Mattress. They make a high-quality product out of environmentally friendly materials. Comfort, cooling, and motion isolation are all excellent, and their warranty is unbeatable.The design and firmness level make this a good mattress and worth the price for a large majority of people.
Overall, Puffy is a great value for the money. Not to mention, you can just buy it online and get it shipped right to your home.
Consumer Reports and the BBB even feel good about the rating of the company--though you'll find some negative ratings at BBB, as people tend to go to BBB when they have a complaint, not a compliment.
Trial Period and Warranty
9.8
To see more top rated mattresses, check out our Top Ten List!
Frequently Asked Questions About Puffy
How Heavy is the Puffy Mattress?
The weight of your Puffy mattress will depend on the size you choose. Puffy mattresses typically weigh between 41 lbs. and 87 lbs., making it easy enough to handle between two or more adults upon delivery.
Where Is Puffy Mattress Headquarters?
Puffy's headquarters are located in North Hollywood, California. Mattresses are shipped from within the U.S. in as little as 2 to 5 business days.
What Are the Puffy Mattress Dimensions?
The dimensions of your Puffy mattress will vary depending on the type and size of the mattress you order. All original Puffy mattresses are 10 inches thick. The Puffy Lux is 12 inches thick while the Puffy Royal is 14 inches thick.
How Long Does Puffy Mattress Take To Expand?
Upon unboxing your Puffy mattress, you can expect it to fully expand in as little as 10 minutes. However, it is advised that you allow your new mattress to air out over the course of 1 to 3 days for off-gassing and expansion purposes.
Where Can You Buy the Puffy Royal Mattress?
Like the original Puffy and Puffy Lux mattresses, the Puffy Royal is only sold online through Puffy and affiliate partners.
How Much Does It Cost to Ship A Puffy Mattress?
Shipping is free for any Puffy mattress delivered to the continental United States! There is a fee for shipping to Alaska and Hawaii, however. At this time, international shipping is not available.
Does the Puffy Mattress Need to Be Flipped?
Because Puffy mattresses are single-sided, you do not need to flip them top-to-bottom. To promote even wearing, however, you should rotate your mattress head-to-foot once a month for a few months after you first receive it. For the rest of its lifespan, you should rotate your mattress every three to four months, as well. 
How Do Different Puffy Mattresses Compare?
The original Puffy mattress is an all-foam, 5-layer mattress with a medium firmness for comfort and support.
The Puffy Lux is the most popular choice, providing breathability, pressure relief, and technology to adapt to your body's curves. 
Puffy Royal mattresses prevent heat retention and offer full-body support with plush comfort and the thickest layers of all Puffy offerings.